1) On-campus support is offered at San Diego Miramar College through our Mental Health Clinical Services
Mental Health Counseling provides short term clinical services to help students to optimize their learning and growth and help students decrease stress for academic and personal success. We work with students who are seeking help to learn coping strategies and problem solving skills. Crisis intervention and referrals are also provided.
Their counselors/therapists are licensed professionals in Marriage & Family Therapy and Psychology. They offer a limited number of sessions. They will refer to community providers for those who will benefit from an extended therapeutic relationship or need long-term services, including for addictions or psychiatric medication.
Enroll in the Mental Health Canvas Shell to reference previous Fit Friday & Mindfulness Monday Blogs, tips, and resources. https://sdccd.instructure.com/enroll/8Y7966
 If you are struggling with overwhelming stress or are in need of mental health support call the ACCESS & CRISIS 24 Hour Hotline (SD County) at 1-888-724-7240 or text "COURAGE" to 741741
 If you are a currently enrolled student at Miramar College and would like to schedule with a Mental Health Counselor call 619-388-7881
Make it Mindful Mondays are held virtually via Zoom on select Mondays from 2-3pm. Reference attached flyer for more details.
Zoom: https://tinyurl.com/yr5kundv
Zoom: https://tinyurl.com/2rb97bj2
Zoom: http://bit.ly/mhdrop  Password: MH
Zoom:http://bit.ly/wellwedn Password: Spring22
2) Great outside agencies also offer mental health support. Check out the flyers below. You can click on the image and it will take you to the site listed on the flyer.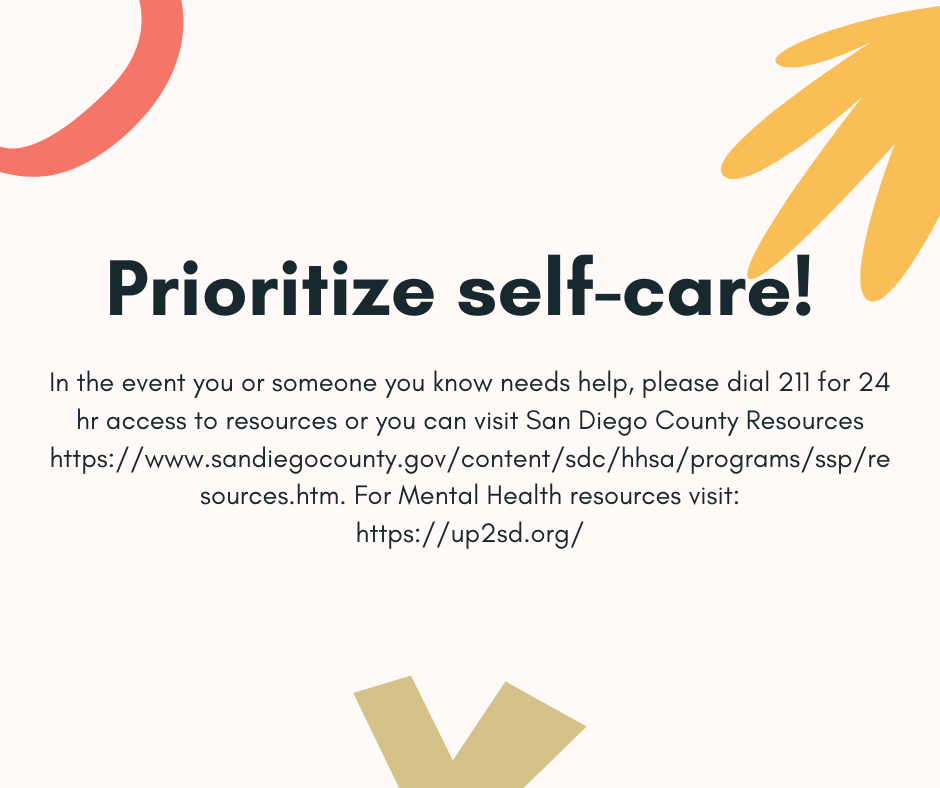 3) If mental wellness services are not available through #1 San Diego Miramar Mental Health Clinical Services please refer to the following resources:
Access & Crisis 24 Hour Hotline 1 (888) 724-7240.
National Suicide Prevention Line 1-800-273-TALK (8255)
Warm Line 1 (800) 930 9276.
DV/Sexual Assault Crisis Line & Referral (888)385-4657
Provides mental health crisis intervention and information and referral to mental health services in San Diego County. Additionally, provides drug and alcohol information.
You will be connected to a skilled, trained counselor at a crisis center in your area, anytime 24/7. If calling locally you will be connected to the Access & Crisis 24 Hour Hotline. You can also call this line anywhere in the nation.
Provides a friendly telephone support line which listens to concerns and offers referrals. Available 3:30pm-11:00pm 7 days a week.
Highly trained advocates are available 24/7 to talk confidentially with anyone experiencing domestic violence, seeking resources or information, or questioning unhealthy aspects of their relationship.
Dial 211 from anywhere in the U.S. for information on local resources for food, housing, job support, health, human trafficking or disaster assistance. Can also provide assistance during a personal crisis