Get in touch
DSPS
miradsps@sdccd.edu
Mon - Thu:
8:00am - 6:00pm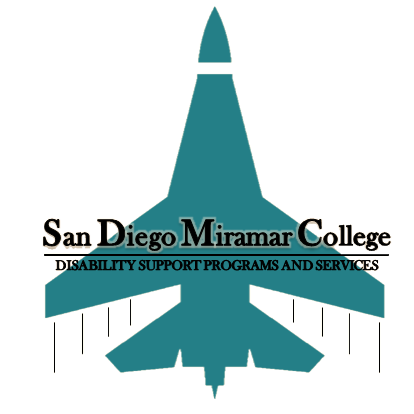 Counseling appointments remain virtual at this time.



Monday - Thursday:  LIMITED in-person services from 9am - 3pm
Friday:  Remote services only
Please call or email us before coming to campus so that we can help you determine whether your specific needs will be best met via our in-person or online services.
As a reminder, masks are required on campus regardless of vaccination status.
NEW MIRAMAR DSPS STUDENTS:
Including students who have had DSPS Services at Mesa or City but not at Miramar.


Please review our

Getting Started Flyer

.  Email all necessary documents to

miradsps@sdccd.edu.

CONTINUING MIRAMAR DSPS STUDENTS:


To schedule a remote counseling appointment, please click on the following link:


DSPS Remote Counseling Appointment
To prepare for your DSPS remote counseling appointment, we recommend you watch the

following Zoom tutorial.  
Visit https://www.sdccd.edu/coronavirus/ for up to date information regarding COVID-19.
Disability Support Programs and Services (DSPS) department at Miramar College offers a variety of services for students with verified disabilities.  Examples include students with learning disabilities, impairments in vision, hearing, and mobility, mental health conditions, acquired brain injuries, and other medical disabilities.

As a result of participating in DSPS at Miramar College, students with verified disabilities will achieve the following Student Learning Outcomes:
Identify individual educational limitations and appropriate respective accommodations,

Utilize appropriate disability management strategies,

Develop a Student Education Plan giving consideration to their academic and vocational goals, their strengths and limitations,

Identify college and community resources to maximize independence,

Understand their legal rights and responsibilities and how to file an appeal or grievance if access is denied or hindered.
Services are provided in compliance with state and federal legislation, including Section 504 of the Rehabilitation Act of 1973 and the Americans with Disabilities Act (ADA) of 1990 and the ADA Amendments Act of 2008 (ADAAA). Student participation in the program is voluntary.
The DSPS Office serves students with disabilities who are taking Miramar courses offered both on campus and online.
Miramar College opens doors to promising careers and provides equal access to academic transfer courses and workforce preparation programs. Students can select from many degree and certificate programs that will prepare you for employment, skills improvement, or transfer to a four year institution.
Students are encouraged to contact the Disability Support Programs and Services Office in the early stages of their college planning.
In order for DSPS to provide quality service to our students, it is important that we have your current contact information. Please maintain your correct contact information on the SDCCD Portal.