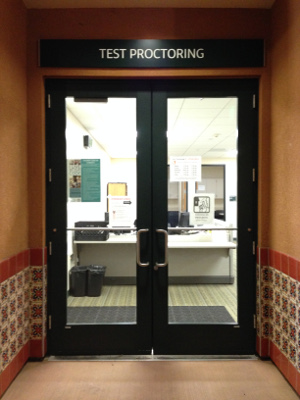 The Disability Support Programs and Services (DSPS)  department at Miramar College authorizes appropriate  academic accommodations, including Test Proctoring, after  thorough review of disability documentation and an extensive  interactive process between the student and the DSPS  Counselor.
Our Test Proctoring Center provides a distraction reduced environment for students to take their exams. We provide students with disabilities equal access to their testing ability and assist students in accommodating their functional limitations.
Testing accommodations can be provided by either the instructor or the DSPS office.



Spring 2022 testing availability:
Monday - Tuesday 8:30am-5:30pm
Wednesday - Thursday 8:30am-4:30pm
Friday 8:30am-12:30pm
Proctoring will be provided by appointment only.
The Test Proctoring Center is located in L-103 on the first floor of the LLRC building.
Exams taken within Canvas:
The student notifies their Professor that they would like to utilize test proctoring accommodations by submitting a copy of their Miramar Authorized Academic Accommodations (AAA) form.  An electronic copy of the AAA form is made available to the student by Miramar DSPS.
The Professor extends the time (based on the accommodations letter) directly in Canvas for the student.  Here are the instructions on How to Extend Testing Time in Canvas.
How to request a Test Proctoring Appointment:
Please click on the button below to submit your Test Proctoring Appointment Request.  The form must be submitted 5 business days before an exam and 10 business days before a midterm or final exam.  We cannot guarantee a proctor if you submit the form late. 
Test Proctoring Appointment Request
If you have any questions please contact MiramarDSPSProctor@sdccd.edu.
 
DSPS Student Expectations & Responsibilities
Students are expected to communicate with their professor regarding their plans to utilize test proctoring services in advance.
One week or more before the test you will complete the Test Proctoring Appointment Request form.  We cannot guarantee a proctor if you submit the form late.
If the Test Proctor observes academic dishonesty, the test will be stopped immediately. Your instructor will be contacted. DSPS may suspend your use of test proctoring as an accommodation.
Testing appointments will not be changed or rescheduled unless approved by your professor. The professor must directly email or call the DSPS office.