Relation to college-wide planning
It is important to consider the institution's mission statement and department mission statements in the process
The institutional mission statement is our foundation - the mission statement tells us the "result" of a student experience at Miramar College
Department mission statements should be aligned with the College's Mission Statement
The ISLO tells us the skill sets that a student will acquire by experiencing Miramar College through course, program, or service
In alignment with the ISLO, our unit SLO/SUO incorporates the methods of helping a student to acquire the skill sets
The results of our SLO/SUO assessment informs our Program Review by informing  us of the need to make programmatic changes and/or resources required to ensure our students  are gaining those skill sets 
Program review feeds into college-wide operational divisional plans, which in turn provides the college information for the next cycle of planning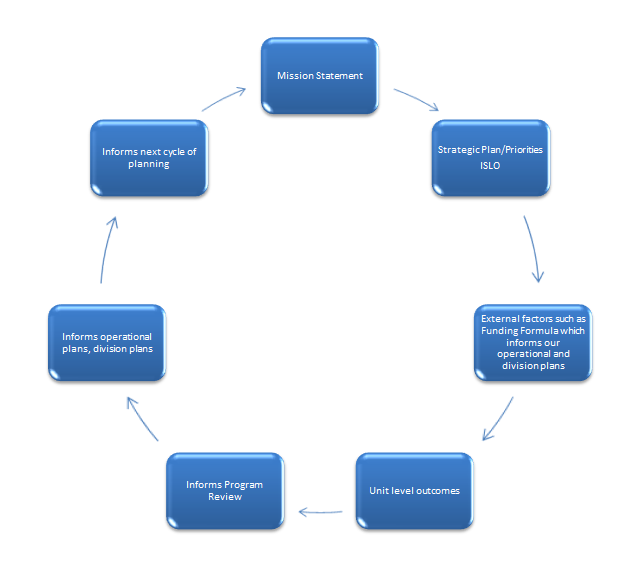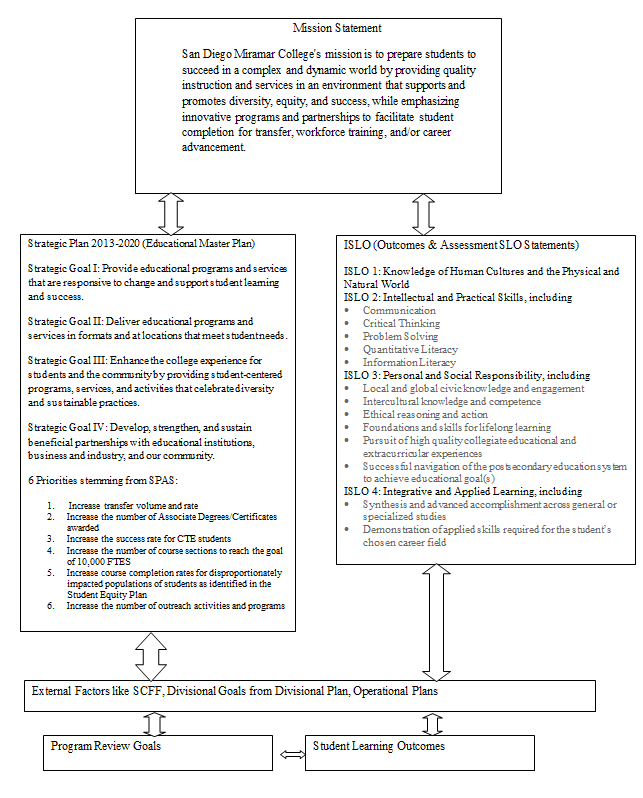 Assessment Plan Process
The process of assessment is a continuous process to measure knowledge, skills, and abilities which in turn helps programs, courses, and services focus on continuous quality improvement.  Assessment provides answers to the following (ASU University Office of Evaluation and Educational Effectiveness)
What do students need to know to successfully graduate?
What do graduates need to know to be successful professionals?
What programmatic changes can be made to continuously improve quality, increase student success, and build required knowledge and skill sets for program completion?
The results of asking these questions:
Strengthen programs and service areas
Students can better articulate and apply knowledge inside and outside class
Students know what is expected and how it will be evaluated
As an institution, Miramar College is committed to student success and evaluating the experience our institution offers students both inside the classroom and out.
Outcomes assessment serves to impact continuous quality improvement of services, courses and programs which help to inform the overall collegewide planning framework.
Miramar College assesses at the institutional level (ISLO), program level (Program SLO, Service Unit/Area Outcomes) and course level.
Three year Cycle of Assessment
The College has adopted a three year cycle for both its Program Review process and the assessment of SLOs at the course, program, and service unit level. The below tables provides a visual example of both assessment activities and program review activities that will occur during a three year cycle.  Each course, program, and service area, must be assessed at least once during the three year period.  
Examples of planning for assessment:
History – link
Blank Instructional Department Template - link
Transfer Center 
 
  
 
2018-2019
2019-2020
2020-2021
Program Review

Program Scan Data & Workspace Available

ID: Due April 20

SS: Due Oct 1

ISS: Due Oct 1

ID Deans: August

Program Review Updates due
Program Review Updates due
Resource Requests Due
October
October
October
SLO Assessment
Review course, program, and/or service unit SLOs for full Program Review.  Make any necessary modifications to SLOs and plan to assess
Collect assessment data and dialogue with faculty and staff.  Design and plan to implement actions to improve student learning and student success.
Implement Action Plans and provide Status Report to complete cycle for all SLOs due Spring
Assessment Cycle for reporting purposes
2015-18 SLO Assessment Cycle
2015-18 SLO Assessment Cycle
2015-18 SLO Assessment Cycle
ID:  Instructional Division
SS:  Student Services
ISS:  Instructional Support Services

For new courses and programs - learning outcomes, measures, and timelines should be developed at the point of proposal.  If you need assistance, please visit the campus Research Office.
Developing an Effective SLO/SUO