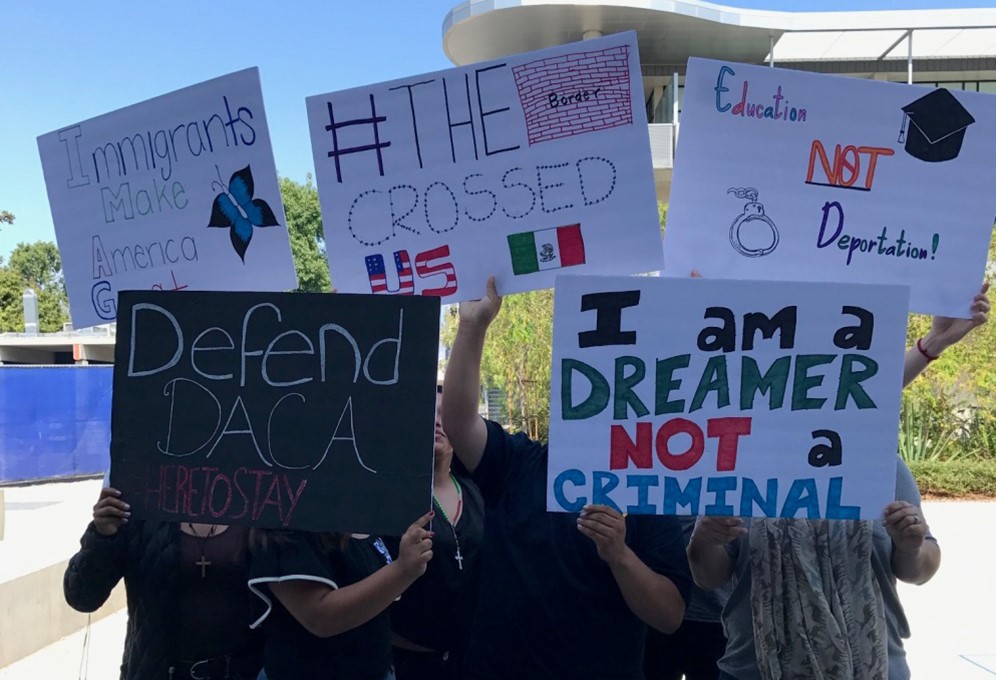 What is DACA (Deferred Action for Childhood Arrivals)?
On June 15, 2012, President Obama announced that the U.S. government would not deport certain undocumented immigrants who came to the United States when they were children. Eligible individuals were able to apply for and given a type of temporary permission to stay in the U.S. called "deferred action." Deportation action was deferred for two years, subject to renewal for an additional two years. Students under DACA are considered by DHS (Department of Homeland Security) to be lawfully present in the United States during the period of deferred action.
DACA Update (as of July 2021):
1. Miramar Students: We can refer you to Jacobs & Schlesinger LLP free of charge so they can assess and see if you qualify for DACA application, get the application filled out with them. Email us: miradreamers@sdccd.edu
These are the eligibility requirements that our DACA students have to meet:
What DACA Does:
Protection from deportation for 2 years at a time (renewal cost is $495)
Social Security Number
Work authorization
What DACA Does NOT Do:
Does not put someone on the path to permanent legal immigration or U.S. citizenship
DACA recipients cannot vote
DACA recipients cannot receive any federal benefits, like Social Security, federal financial aid, or food stamps
---
Apply or Renew Your DACA:
Due to federal court orders, USCIS has resumed accepting requests to renew a grant of deferred action under DACA. USCIS is not accepting requests from individuals who have never before been granted deferred action under DACA. Until further notice, and unless otherwise provided by USCIS, the DACA policy will be operated on the terms in place before it was rescinded on September 5, 2017. Cost to renew DACA is $495.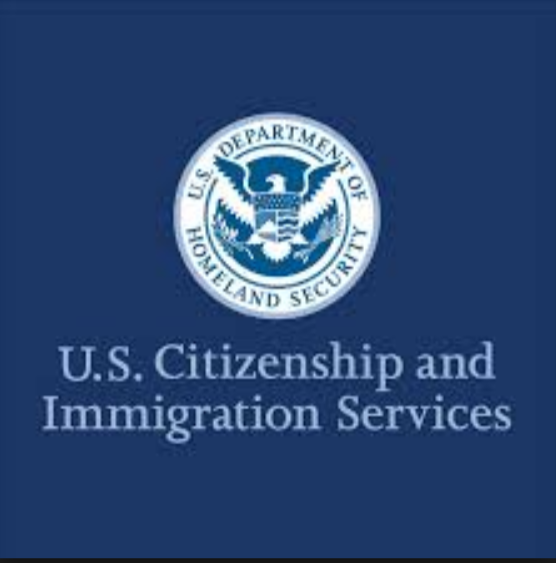 U.S. Citizenship and Immigration Services
---
2. FREE DACA NEW Applications & Renewals assistance in San Diego for selected local colleges:
Higher Education Legal Services, HELS, Jewish Family Services San Diego:www.jfssd.org/our-services/refugees-immigration/higher-education-legal-services/
You can select Mesa or City when it asks for campus since Miramar won't show up on the list.
When booking appointment and filling out client intake you will be asked CCC Campus and can then select SD Miramar College
JFS Immigration Attorneys and DoJ Representatives offer personalized Immigration Legal Services to students, staff, and faculty at selected local colleges.

  
---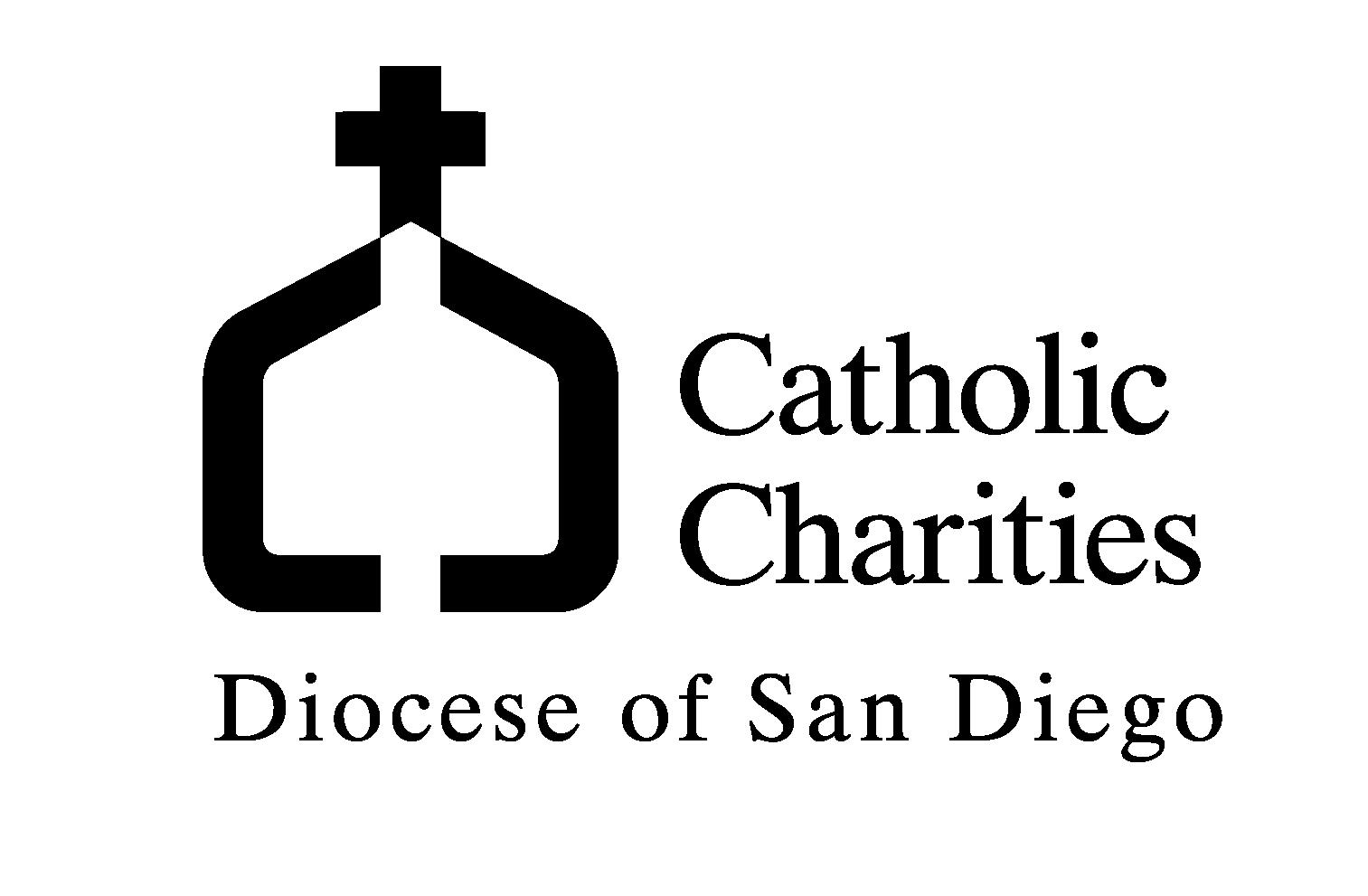 3. Catholic Charities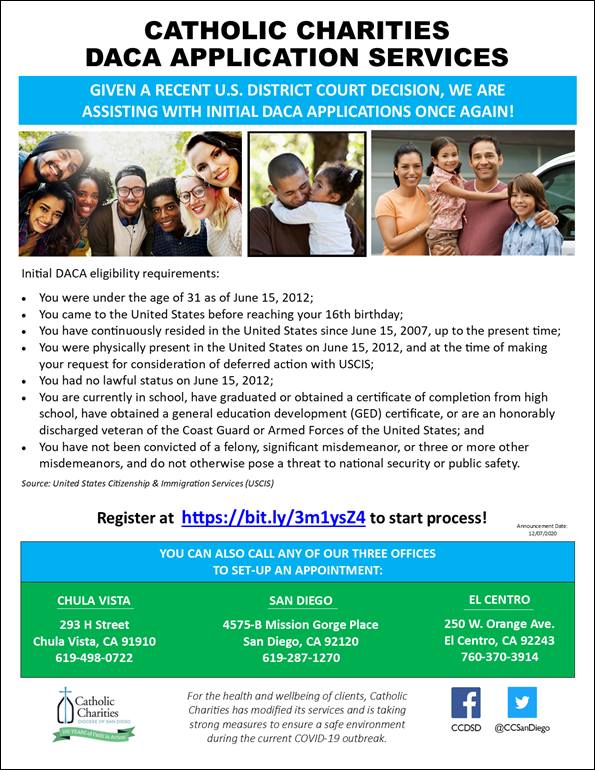 *Click on flyer to be taken to registration link
---
4. International Rescue Committee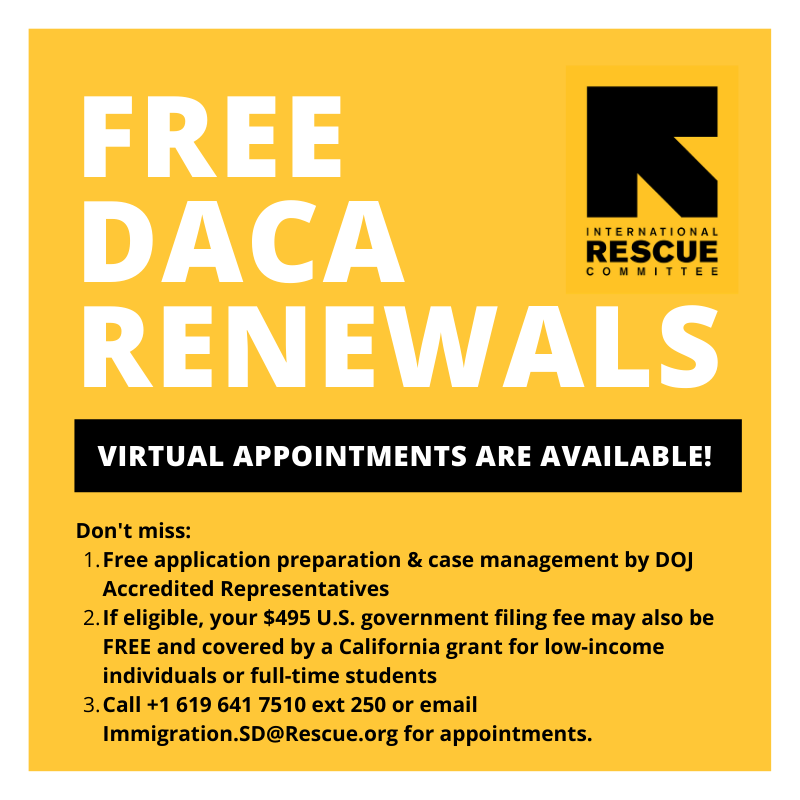 ---
How to Fund DACA Renewals, Paying the $495 Fee
Saving $495 can really be a challenge. Here is some information and resources for students who need support paying the application fees.
Find help locally

Use the Informed Immigrant DACA clinic map

 to search for DACA renewal clinics in your area.

Use the Informed Immigrant 

Legal Service Directory

 to find a pro bono legal service organization near you.

If you are a DACA beneficiary of Mexican origin, approach your consulate for an immigration screening and individualized legal assistance. Call 855-463-6395 or find a list of 

local Mexican Consulates.

Personal Fundraising

Start a personal fundraising page on 

GoFundMe

, which launched an effort to help DACA recipients crowd fund for renewal fees.

Send letters and emails to select friends or family members. 

Template here

.

Instead of gifts for your birthday, ask for money to help you pay for the renewal request. 

Institutional help

Talk to your employer

 and ask if they can cover the cost of your renewal fee to minimize the risk that your employment would be disrupted while awaiting a decision on your DACA and work permit renewal.

If you are a member of a faith group, reach out to your house of worship; they may be willing to help.

Apply to the 

Voto Latino pro bono project with King & Spalding LLP

 UndocuNeighbor initiative. 

Apply to the United We Dream 

DACA renewal fund

.

(Dreamer Peer Mentors have used this link and were given the check to renew their DACA)
Please share, for more information: https://www.informedimmigrant.com/guides/daca-renewals-2020/
---
Beyond DACA-IMMMIGRANTS RISING
Watch the video. You can still succeed without DACA and it does not define you. Empower yourself. You are not alone you have a support system at Miramar. Check out the Beyond DACA Immigrants Rising Page.