San Diego Miramar College welcomes and celebrates all members of the LGBTQ+ community and allies!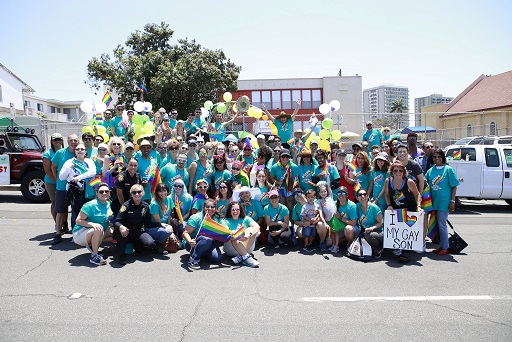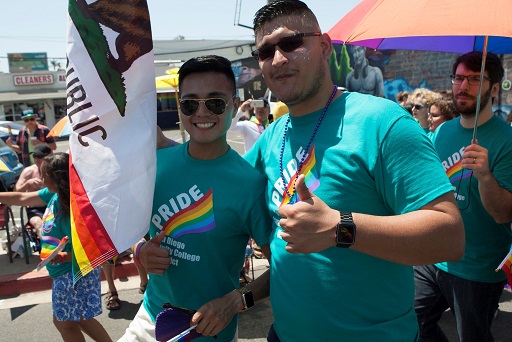 San Diego Miramar College is an LGBTQ Safe Campus
The Office for Civil Rights (OCR) in the U.S. Department of Education requires institutions to protect all      students, including LGBT (Lesbian, Gay, Bisexual, Transgender) students under Title IX. San Diego City, Mesa and Miramar College and Continuing Education facilitate and foster an inclusive, affirming, inclusive, and celebratory environment for students, faculty, and staff, of all sexual and gender orientation, identities, and expressions.
LGBTQ Safe Zone
Safe Zone Trainings are held on campus for faculty, classified professionals, administrators, student workers, and anyone who would like to attend with the goal of learning how to help create an inclusive learning environment at Miramar College. The two-hour training is tailored to the classroom and college environment. After the training, participants will receive a Safe Zone trained sticker. 
View a List of Safe Zone Trained Miramar College Employees or Add Your Name to an Interest List for Future Safe Zone Trainings. For questions about the Safe Zone Trained list, please contact Lagonzal@sdccd.edu.
Club Spectrum
Club SPECTRUM is Miramar College's student LGBTQ+ club, providing peer-to-peer social support. All are welcome, allies included! To find out when Club SPECTRUM meets, please contact the faculty club advisor, Professor Laura González at Lagonzal@sdccd.edu or the Office of Student Affairs at smarquez@sdccd.edu.
LGBTQ+ Alliance
 Miramar College's LGBTQ+ Alliance is a cross-campus task force of faculty, classified professionals, students, and administrators whose goal is to create a welcoming, inclusive, and safe environment for all members of the LGBTQ+ community on campus. For more information, please contact Laura González at Lagonzal@sdccd.edu or Anna Liza Manzo at amanzo@sdccd.edu.
---
Scholarships
San Diego Miramar College hosts a scholarship awards ceremony every spring, when dozens of scholarship awards are given to students. The LGBTQ+ Alliance sponsors one annual scholarship of $100 for students who identify as part of the LGBTQ+ community. Applications will be available in the fall on the Miramar College Scholarship web page, or contact the Scholarship office for more information. 
---
Rainbow Commencement Stoles
The Miramar College bookstore has rainbow commencement stoles available to purchase and wear at commencement for students and faculty. The stoles are worn over regalia (commencement robes).
---
All-Gender Restrooms
Click on our Campus Interactive map for locations 
3 Single-stall Restrooms - LLRC 1st, 2nd, and 3rd floor
2 Family Restrooms - Campus Pool Deck
---
Preferred Names
It's now possible to change your preferred name on campus rosters, ID cards, and in the Canvas learning system! Please visit your Student Portal in Campus Solutions (mySDCCD) > Student Profile > Personal Information > Names > Preferred Name.
According to California law, your legal name must remain on some of your school records, including your transcript and degree or certificate. If you are interested in changing your name (or gender) legally, you can find details about that process here.
Want to Know More About Pronouns?
The following are some useful resources for pronoun usage for people who identify as trans or non-binary/gender non-conforming.
Filing an Incident Report
The San Diego Community College District is committed to providing a safe and equitable learning and working environment for all students and employees, free from sexual harassment, sexual violence, dating violence, domestic violence, stalking, and any other sex-based or gender-based misconduct. Any incident committed on District property or at a District sponsored event or activity may be reported directly to the campus Title IX Deputy, Dean of Student Affairs in K-210 at 619-388-7313 or the District Title IX Coordinator at 619-388-6805.
 -✩-
Miramar College supports LGBTQIA2S+ students and so does your Associated Student Government. Become a member of the Associated Students today to unlock all the benefits of being a Miramar student!