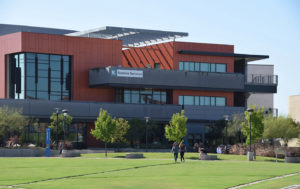 Make the most of your time at Miramar College by taking advantage of a wide variety of extracurricular activities.  From athletics to student clubs and governance, Miramar offers something for everyone.  
Associated Student Government
There are many ways to be involved at Miramar.  You can provide input and help shape campus policies and procedures by joining the Associated Student Government.  If your interests lie elsewhere, consider joining one (or more) of our many student clubs.  Don't see a club that interests you?  Consider forming one by contacting the office of Student Affairs!
Take a Break
Stop by the college cafe, located on the first floor of the K-1 (Student Services) building, for great food made-to-order, including fresh pizza, deli-style sandwiches, burgers, and a tasty breakfast menu for early-risers.  Be sure to visit during one of the many college-hour events, and enjoy a variety of live entertainment.
Above the cafeteria, on the second floor, you will find a spacious student lounge, where you can relax, study, or hang out with friends.  The lounge is conveniently located next to the Student Affairs office, should you have any questions about your student life opportunities.
Take Care of Yourself
Miramar College offers resources to students to help ensure physical, mental and emotional well-being.  Please visit our Wellness Center for more information on Student Health or Mental Health resources.  Consider enrolling in a health or fitness course -- students enrolled in the appropriate course have access to the Fitness Center, with free-weight, weight machines and cardiovascular exercise equipment.   
More
Be sure to check our campus calendar regularly, for a variety of activities and events!