Diesel Technology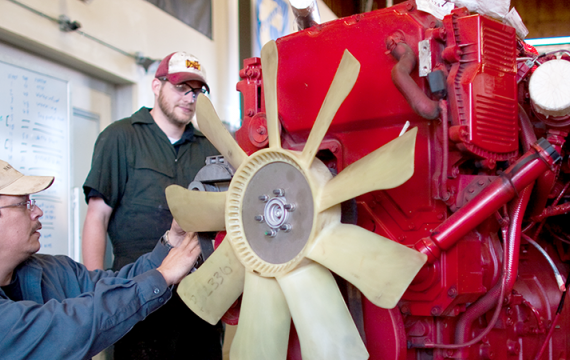 Diesel Technology
The Diesel Technology program provides the student with an opportunity to master the manipulative and critical thinking skills required for success in servicing and maintaining Diesel, CNG, and LNG powered heavy duty commercial trucks, off highway heavy equipment, stationary engines, and marine craft.
The two-year curriculum has three tracks leading to a Certificate of Achievement, and two tracks leading to an Associate in Science degree. In addition, the diesel program offers Certificates of Performance in nine specialty areas. These certificates can be applied toward the Certificate of Achievement or the Associate in Science degree.
Degree & Certificate Programs
For questions or more information, contact miramarcareered@sdccd.edu.
This program's related interest areas:
Some of the many career options in the commercial truck industry include:
Heavy-Duty Truck Technician
CNG/ LNG Bus Technician
Truck & Bus Fleet Service Technician
Power Generation Technician
Diesel Engine Overhaul Technician
CNG/ LNG Engine Overhaul Technician
Some of the many career options in the heavy equipment industry include:
Heavy-Equipment Technician
Field Service Technician
Field Service Lube Technician
Marine Engine Technician
Some of the many career options in related industries include:
Commercial Truck Inspector
Service Writer/ Advisor
Truck & Equipment Parts Sales Person
Some diesel-related career fields require area specific training in addition to the courses required in the HDTT, HET certificates. Students intending to transfer to a university could consider the following related areas:
Business Management
Applied Engineering
Engineering
Certificates & Degrees
Diesel Fuel Injection Systems, Engine Overhaul, Caterpillar, Engine Overhaul, Cummins, Engine Overhaul, Detroit Diesel, Engine Repair, Caterpillar, Engine Repair, Cummins, Engine Repair, Detroit Diesel, Heavy Duty Diesel and Advanced Transportation Technology (HDDAT)--Evening Program, Heavy Duty Transportation Technology (HDTT) (Day Program), Heavy Equipment Powertrains, Heavy Equipment Technology (HET) (Day Program), Heavy Equipment Undercarriage Systems, Mobile Hydraulics Technician, San Diego City Civil Service Equipment Mechanic Apprenticeship, San Diego Transit General Mechanic, Steering, Suspension, and Drivelines, Truck Air Brake Systems, Truck and Equipment Electrical Systems, Truck Drive Axles, Truck Transmissions and Clutches
Diesel Fuel Injection Systems
Diesel Technology Engine Overhaul, Caterpillar
Diesel Technology Engine Overhaul, Cummins
Diesel Technology Engine Overhaul, Detroit Diesel
Diesel Technology Engine Repair, Caterpillar
Diesel Technology Engine Repair, Cummins
Diesel Technology Engine Repair, Detroit Diesel
Diesel Technology Heavy Duty Diesel and Advanced Transportation Technology (HDDAT) Evening Program
Diesel Technology Heavy Duty Transportation Technology (HDTT) Day program
Diesel Technology Heavy DutyTransportation Technology (HDTT) Day Program
Diesel Technology Heavy Equipment Technology (HET) Day Program
Heavy Equipment Powertrains
Heavy Equipment Undercarriage Systems
Mobile Hydraulics Technician
San Diego City Civil Service Equipment Mechanic Apprenticeship
San Diego Transit General Mechanic Apprenticeship
Steering, Suspension, and Drivelines
Truck Air Brake Systems
Truck Drive Axels
Truck Transmissions and Clutches
Truck and Equipment Electrical Systems
Student Learning Outcomes
Students who complete the Diesel Technology Program will be able to:
Perform the manipulative and critical thinking skills when performing service work on heavy duty vehicles, systems, and components using a variety of tools, equipment and instruments.
Perform service procedures safely and implement workplace health and safety compliance using regulations published by the Occupational Safety and Health Administration, and the Environmental Protection Agency.
Perform research, locate, and use he