Aviation Operations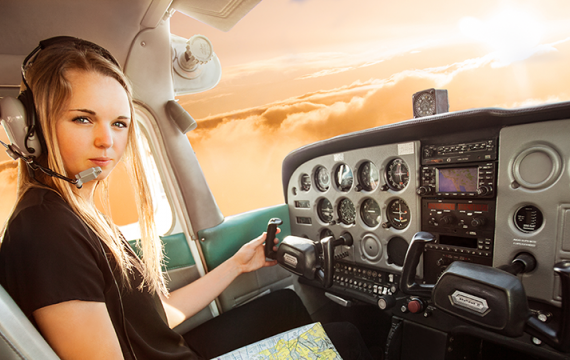 Aviation Operations
About Our Program
First, let me answer the most common question.  We do not offer "manned" aircraft flight training at Miramar College.  We provide excellent ground training, but no flight training.  You can concurrently take our FAA-approved ground school while also completing your flight training, but it have to take place elsewhere.  Now that that's out of the way ...
The Aviation Operations Program integrates rigorous academic study, providing a strong foundation for leadership positions within the aviation industry, along with simulator training. The program emphasizes a combination of the technical fundamentals of flight, airport operations, human factors, group dynamics, and safety in order to enhance students' development of situational awareness, critical thinking, and problem solving skills.
Miramar College's Aviation Operations Program meets all requirements of the Federal Aviation Administration's (FAA) Part 141 Pilot Ground School. Upon completion of the program, students are able to complete the FAA Airmen Knowledge Tests for Private, Instrument, and Commercial Pilot certificates. Flexible course selection and multiple degree and certificate options are available to prepare the student for a variety of career paths in the aviation industry, including commercial pilot, airport management, unmanned systems, human factors, and many more.
Please check the FAQs to the right to answer some of your questions about our program.  If you are new to the college, start by applying here: http://www.sdmiramar.edu/futurestudents.  
Now offering "Drone" classes!
Want to learn more about drones, get hands-on flying experience, and gain the knowledge to become a commercial drone pilot?  You've come to the right place.  We have multiple DJI and 3DR models, to suit a variety of small Unmanned Aerial Systems (sUAS) training demands.
"Remote Pilot" is the FAA's term for a "Drone Pilot."  You can view the schedule and enroll in our Remote Pilot Ground School and Remote Pilot Flight Labs, AVIA 161 and AVIA 161L respectively, at www.sdmiramar.edu or by clicking here.  Classes start in the Spring of 2018, get your seat today!  Miramar College provides the instruction, the location, and even the equipment! 
Credit for FAA Pilot Certificates
Pending Aviation Operations Program Director review and approval, students who already possess the associated FAA pilot certificate or rating may challenge up to two of the following courses:
Private Pilot Ground School (AVIA 101)
Instrument Ground School (AVIA 195)
Commercial Pilot Ground School (AVIA 201)
Flight Instructor Ground School (AVIA 211)
Pending Aviation Operations Program Director review and approval, a student awarded a Miramar College Certificate of Performance for an academic phase of ground instruction (AVIA 101, 195, 201, 211) who subsequently earns the associated FAA certifcate or rating can request that 3 units of credit be awarded for that flight training. As a result, it is possible for a student to earn up to 12 units at Miramar College for flight training. 
Degree & Certificate Programs
What Classes Should I Take?
Professional Aeronautics Degree Course Sequence
Aviation Business Administration Course Sequence
For questions or more information, contact miramarcareered@sdccd.edu.
This program's related interest areas:
The following is an abbreviated list of the myriad of career training options the Aviation Operations Program prepares its graduates to embark upon:
Airline Management
Airport Management
Airport Security
Air Traffic Control
Border Patrol
Commercial Airline Pilot
Corporate Pilot
Ag Pilot, Dispatcher
Banner Towing
Certificated Flight Instructor
Airline Flight Operations
Federal Aviation Administration
Gate Agent
Fixed Base Operator Management
Flying Club Management
Flight Attendant
Flight Operations Supervisor
Unmanned Aircraft Operations
Transportation Security Administration
Some aviation-related career fields require study beyond the associate degree level. Students intending to transfer to a university in an aviation related major should consider completing an associate degree in the Professional Aeronautics program.
Certificates & Degrees
Aviation Business Administration, Aviation Operations Management, Commercial Pilot, Flight Instructor, Helicopter Operations, Instrument Pilot, Private Pilot, Professional Aeronautics, Professional Piloting, Team Resource Management
Aviation Business Administration
Aviation Operations Management
Commercial Pilot
Flight Instructor
Helicopter Operations
Instrument Pilot
Private Pilot
Professional Aeronautics
Professional Piloting
Remote Pilot
Team Resource Management
Student Learning Outcomes
Upon successful completion of the Aviation Operations program students will be able to:
Demonstrate preparedness to complete, or continue preparation for, the respective Federal Aviation Administration written examination.
Demonstrate the knowledge, skills, abilities, and experience for employment in an aviation-related career field