Get in touch
Associated Student Government/Clubs
eborek@sdccd.edu
Mon - Fri:
8:00am - 5:00pm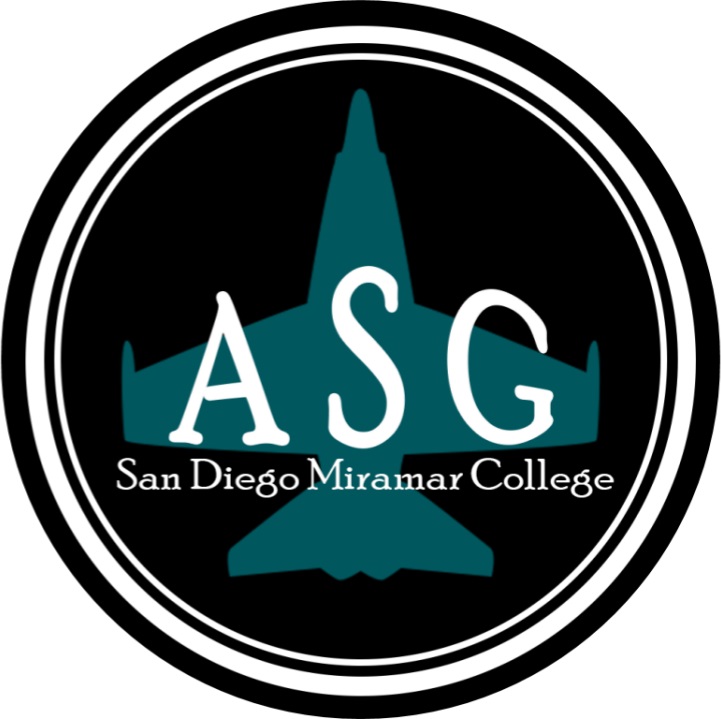 The Associated Student Government (ASG) offers the opportunity to participate in student government, develop leadership skills, civic engagement such as voter registration drives and coordinate special events. ASG representatives reflect the diversity of the student body and are allowed to recommend policies and procedures. Officers of the ASG are elected at large by the general student body. To know more check out our website at ASG INFORMATION
---
Congratulations to the newly-elected ASG Board of Executives for the 2021-2022 academic year!
Fall '21 In-House Elections
Run for ASG Senator NOW! Nominations are currently open.
Are you considering a leadership position with the Miramar College Associated Student Government (ASG)? The 2021–2022 In-House Elections for Treasurer (1) & Senator positions (8) are now open! Download the fillable PDF application from the Important Documents section or by following the appropriate links below. After you have filled out the application and followed all instructions therein, email your completed election packet to smarquez@sdccd.edu.
Nomination Deadline:
September 8, 2021, 5pm

In-House Elections:
September 10, 2021, 9am
Need help collecting signatures? Email ASG President Edward Borek at eborek@sdccd.edu.
What is an in-house election? Rather than being voted into office by the entire student population (that is a general election, which takes place in spring for all officer positions), fall semester senate candidates are elected by the Board of Executives and current senators.
---
Meetings
All students are welcome to attend the ASG Meetings which are being held remotely during the shutdown on Friday mornings from 9:00 am - 11:00 am . We encourage you to attend a meeting and get involved in making our campus a vibrant place to be! Please visit the ASG website for meeting details and agendas.
---
Associated Student Members
AS Membership
Unlock all the perks of being a Miramar Student
You can purchase your AS Membership Card at any time via your mySDCCD student portal. The SDCCD will note your membership as being on file. Due to the virtual nature of college operations at this time, you will NOT receive a physical ID-card with ASG Membership designation.
A Guide to All Things JETS!
Signup to receive occasional emails from the Miramar College Associated Student Government regarding campus events, contests, and initiatives; news and important updates; plus scholarship and internship opportunities.
For More Information
For more information, visit the ASG website.
---
Student Clubs and Organizations
Student clubs and organizations are an integral part of student life at San Diego Miramar College. Student organizations provide opportunities to make friends, pursue special interests, and gain leadership skills. Club membership is open to all Miramar College students. Consider joining a student club or organization today!
A Club for Everyone
Miramar College offers many student-run organizations to choose from. Whether you are interested in Chemistry or Biology—Business or Athletics—the Associated Students have you covered! Student Veterans and LGBTQ+ individuals also have dedicated organizations. Maybe, you are looking for a Black Student Union or Club de Latinx con Voces. If you are looking for a safe-space that is not yet established on campus, then start your own!
Vending 5000
Student organizations that actively participate in student governance by electing or appointing an ASG Club Representative to attend all ASG meetings are considered chartered: these organizations are eligible to receive financing from the ASG general fund each semester. Make sure your club or student organization fills out a Vending 5000 form every semester! Contact the ASG President with your questions. Student clubs which organize but do not send a representative to ASG meetings are considered recognized, however these organizations are not eligible for funding. All student groups that wish to be designated as either chartered or recognized must be registered with Student Affairs by filling out a club certification packet each academic year.
Inactive Clubs
Student clubs and organizations waiting to be reactivate by interested students like YOU!
Black Student Union
Cultural Appreciation Club
Developer Student Club San Diego Miramar College
Diesel Club
Fire / EMT Club
Human Movement Club
Latinx Con Voces
Miramar Business Club
Miramar CRU (Campus Crusade for Christ International)
Miramar Girls Who Code
Music Club
Persian Club
Phi Theta Kappa
Political Science Club
San Diego Miramar Computer Science Organization
San Diego Miramar Paralegal Club
Sustainability Club
Zion Bible Study Club
---
A Message from ASG President Borek
As ASG President, I have an open-door policy and know that I was elected to serve you, the student.  I have dedicated weekly office hours, and I encourage you to get in touch.  My goal is to serve all students as best I can.  My top priorities as ASG President are to advocate for more open education resources, more comprehensive student services, increased student outcomes—particularly for traditionally underserved groups, and increased student and community engagement as we transition back to in-person instruction.​​​​

—Edward Borek