Get in touch
Associated Student Government/Clubs
Mon - Thu:
8:00am - 5:00pm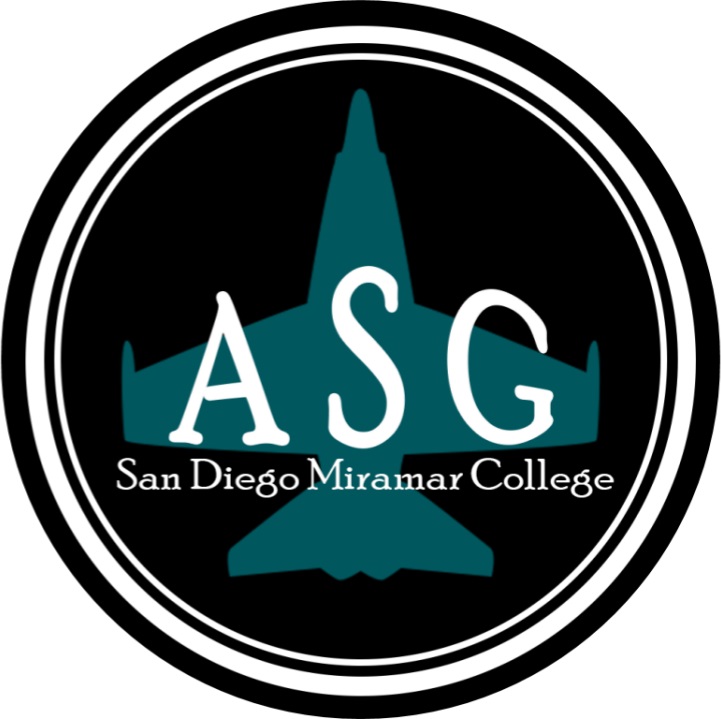 The Associated Student Government (ASG) offers the opportunity to participate in student government, develop leadership skills, civic engagement such as voter registration drives and coordinate special events. ASG representatives reflect the diversity of the student body and are allowed to recommend policies and procedures. Officers of the ASG are elected at large by the general student body. To learn more, check out the ASG information page.
Meetings
The Associated Student Government holds a regular meeting every Friday from 9–11 AM during regular fall and spring semesters. The Associated Student Government offices are open Monday through Friday from 8:00am – 5:00pm.
MEETING LOCATION:
Student Services Building, 1st floor
10440 Black Mountain Rd, K1-107
San Diego, CA 92126
OFFICE HOURS & LOCATION:
Student Services Building, 2nd floor
10440 Black Mountain Rd, K1-208
San Diego, CA  92126
NOTICE:  In accordance with the CA Brown Act and related executive orders, meetings are open to the public.
For more information, contact Sandra Marquez, Administrative Assistant for the San Diego Miramar College Student Affairs Office, at: 619-388-7313 or smarquez@sdccd.edu.
---
Special Election, Fall 2023
A Special Election will be held Fall 2023 to fill the vacant Treasurer position as well as to fill more Senator positions.  Packets will be available     August 16 in K1-210 and will be due August 30 at 4PM.  The Special Election will be held at the ASG meeting on Septemeber 1.
The ASG General Election - Spring 2024!
Each Spring, the students of Miramar have the opportunity to become involved in ASG by running for a variety of leadership position with the Associated Student Government.  These elected student leaders actively recommend and initiate policies and procedures that directly affect the college and the students who study here.  For more information stop by the ASG Office located in on the 2nd floor of the K1-Building.  
2023-2024 ASG Leaders
Namod Pallek, President
Saigel Ghotra, Vice-President
Yurika Mahr, Secretary
Vacant, Treasurer
Vacant, Senate Rep
Kayla Deleon, Senator
Tonhi Dinh, Senator
Kylee Guiriba, Senator
Brian Hall, Senator
Victoria Miller, Senator
Seojin Park, Senator
Anderian Sawa, Senator
Amaan Shagel, Senator
Aditi Verma, Senator
Still Looking to get involved? Keep reading!
AS Membership
Unlock all the perks of being a Miramar Student!
Would you like access to Associated Student Member-only scholarships, free admission to select events, and lots of other FREE GOODIES, like scantrons, school supplies, apparel, swag bags & give-aways, plus free food and beverages (during specified events)?
The Associated Student Government (ASG) is the student governance body for San Diego Miramar College. The ASG offers students the opportunity to participate in college governance, develop leadership skills, encourage civic engagement such as voter registration drives, and coordinate on-campus and virtual events. Your student government can only accomplish these goals and more by collecting a one-time $8 fee from each student.
This fee, known as your Associated Student Membership fee, grants you all the benefits of being an Associated Student at San Diego Miramar College. At most colleges and universities, AS Membership fees are mandatory and can be as high as $300 or more! But here at Miramar College, affordability is the name of the game, which is why our students are only asked to pay $8 for the year. We want to offer the best college experience to our peers as we can, so please opt-in to being a member of the Associated Students. Thank you!
If you are having trouble paying your AS Membership fee, talk to your EOPS counselor or petition your Chartered Student Club to help cover the cost.
Miramar College supports all students and so does your Associated Student Government. Become a member of the Associated Students today to unlock all the benefits of being a Miramar student!
---
Student clubs and organizations are an integral part of student life at San Diego Miramar College. Student organizations provide opportunities to make friends, pursue special interests, and gain leadership skills. Club membership is open to all Miramar College students. Consider joining a student club or organization today!
A Club for Everyone
Miramar College offers many student-run organizations to choose from. Whether you are interested in Chemistry or Biology—Business or Athletics—the Associated Students have you covered! Student Veterans and LGBTQ+ individuals also have dedicated organizations. Maybe, you are looking for a Black Student Union or Club de Latinx con Voces. Join a student club today! And if you're looking for a safe-space that's not yet established on campus, start your own.
Vending 5000
Student organizations that actively participate in student governance by electing or appointing an ASG Club Representative to attend all ASG meetings are considered chartered: these organizations are eligible to receive financing from the ASG general fund each semester. Make sure your club or student organization fills out a Vending 5000 form every semester! Contact the ASG President with your questions. Student clubs which organize but do not send a representative to ASG meetings are considered recognized, however these organizations are not eligible for funding. All student groups that wish to be designated as either chartered or recognized must be registered with Student Affairs by filling out a club certification packet each academic year.
Past & Present Student Organizations
Student clubs and organizations waiting for interested students like YOU!
Black Student Union
Biology Club
Chemistry Affiliate
Club Spectrum, Miramar's LGBTQ+ Student Organization
Cultural Appreciation Club
Developer Student Club San Diego Miramar College
Diesel Club
Fire / EMT Club
Human Movement Club
Journalism Club
Latinx Con Voces
Miramar Business Club
Society of Women Engineers
Miramar Girls Who Code
Music Club
Persian Club
Phi Theta Kappa
Political Science Club
San Diego Miramar Computer Science Organization
San Diego Miramar Paralegal Club
Shelf Love
Student Veterans Organization
Sustainability Club
---
Events
Your ASG loves holding events for our fellow students!
YOU, the Miramar College student body is what it's all about. You make our events everything they are, and we think that is what makes it worth while! Please, come and show that Miramar spirit by engaging and participating with us and our peers. If you have a good idea for an upcoming event, come share at our regularly scheduled meetings—that's every Friday at 9am! We love feedback. You can suggest event ideas or join a planning team as a part of our Future Events Committee.
Never miss an event! Check out Miramar's events calendar to find something you'll like. Keep an eye out for the purple events on the calendar page, those are student activities.