Get in touch
Associated Student Government/Clubs
Mon - Fri:
8:00am - 5:00pm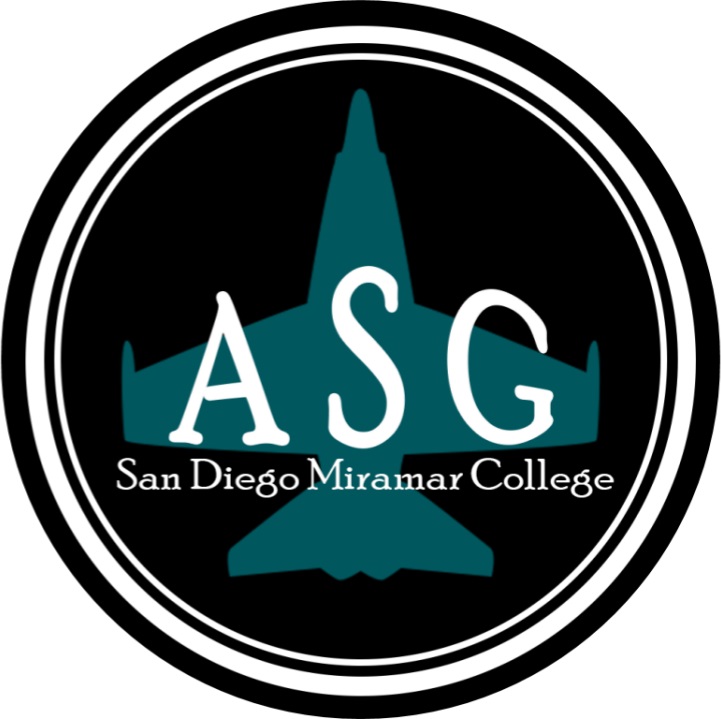 The Associated Student Government (ASG) offers the opportunity to participate in student government, develop leadership skills, civic engagement such as voter registration drives and coordinate special events. ASG representatives reflect the diversity of the student body and are allowed to recommend policies and procedures. Officers of the ASG are elected at large by the general student body. To know more check out our website at ASG INFORMATION
Meetings
The Miramar College Associated Student Government holds a general meeting every Friday from 9–11 AM.
Meeting Location: San Diego Miramar College
10440 Black Mountain Rd, K1-107
San Diego, CA 92126
NOTICE: Due to the COVID-19 pandemic, the ASG is operating in a hybrid format. In accordance with SDCCD policies, all individuals coming on campus MUST be fully vaccinated or able to show proof of a negative COVID-19 test dated no earlier than the Tuesday prior to each meeting. Again, all individuals who do not have a valid exemption who cannot show proof of full vaccination status or those without proof of a negative COVID-19 test are asked to call in using Zoom for the safety of all. Masks are required to be worn at all times while on campus unless eating or drinking. In accordance with the CA Brown Act and related executive orders, meetings are open to the public and accessible by remote teleconferencing using the following information at zoom.us/join or from your Zoom Client application.
Computer/Zoom Users:
https://cccconfer.zoom.us/j/95711070130?pwd=SFYzY282a3lTQ0tDOTZhSno2cFBHdz09
Meeting ID: 957 1107 0130 Password: asg
Telephone Users: Dial: +1 669 900 6833 (US Toll)
NOTICE: Due to the COVID-19 pandemic, our offices are closed to the public. For more information, contact Sandra Marquez, Administrative Assistant for the San Diego Miramar College Student Affairs Office, at: 619-388-7313 or smarquez@sdccd.edu.
---
Congratulations to the newly-elected ASG Board of Executives for the 2021-2022 academic year!
Winter '22 In-House Elections
Thank you for considering a leadership position with the Miramar College Associated Student Government (ASG). The Fall 2021 In-House Elections have ended, and the results are below. The Winter 2022 In-House Election nomination window will open in December. The election will take place in early February. Stay tuned for more information!
What is an in-house election? Rather than being voted into office by the entire student population (that is a general election, which takes place in spring for all officer positions), fall semester senate candidates are elected by the Board of Executives and current senators.
Fall '21 In-House Election Results
Congratulations to our newly elected ASG Officers and Senators!
Marwa Danish, ASG Treasurer
Jorge Morales, Senate Representative
Alexyss Carig, Senator
Allen Kuo, Senator
Thy Nguyen, Senator
STILL LOOKING TO GET INVOLVED?
Committee assignments are open to all Miramar College students, regardless of holding office. Check out our internal ASG Standing Committees and the various college-wide Shared Governance Committees here.
---
AS Membership
Would you like access to Associated Student Member-only scholarships, free admission to select events, and lots of other FREE GOODIES, like scantrons, school supplies, apparel, swag bags & give-aways, plus free food and beverages (during specified events)?
The Associated Student Government (ASG) is the student governance body for San Diego Miramar College. The ASG offers students the opportunity to participate in college governance, develop leadership skills, encourage civic engagement such as voter registration drives, and coordinate on-campus and virtual events. Your student government can only accomplish these goals and more by collecting a one-time $8 fee from each student.
This fee, known as your Associated Student Membership fee, grants you all the benefits of being an Associated Student at San Diego Miramar College. At most colleges and universities, AS Membership fees are mandatory and can be as high as $300 or more! But here at Miramar College, affordability is the name of the game, which is why our students are only asked to pay $8 for the year. We want to offer the best college experience to our peers as we can, so please opt-in to being a member of the Associated Students. Thank you!
If you are having trouble paying your AS Membership fee, talk to your EOPS counselor or petition your Chartered Student Club to help cover the cost.
A Guide to All Things JETS!
Signup to receive occasional emails from the Miramar College Associated Student Government regarding campus events, contests, and initiatives; news and important updates; plus scholarship and internship opportunities.
For More Information
For more information, visit the ASG website.
---
Student clubs and organizations are an integral part of student life at San Diego Miramar College. Student organizations provide opportunities to make friends, pursue special interests, and gain leadership skills. Club membership is open to all Miramar College students. Consider joining a student club or organization today!
A Club for Everyone
Miramar College offers many student-run organizations to choose from. Whether you are interested in Chemistry or Biology—Business or Athletics—the Associated Students have you covered! Student Veterans and LGBTQ+ individuals also have dedicated organizations. Maybe, you are looking for a Black Student Union or Club de Latinx con Voces. If you are looking for a safe-space that is not yet established on campus, then start your own!
Vending 5000
Student organizations that actively participate in student governance by electing or appointing an ASG Club Representative to attend all ASG meetings are considered chartered: these organizations are eligible to receive financing from the ASG general fund each semester. Make sure your club or student organization fills out a Vending 5000 form every semester! Contact the ASG President with your questions. Student clubs which organize but do not send a representative to ASG meetings are considered recognized, however these organizations are not eligible for funding. All student groups that wish to be designated as either chartered or recognized must be registered with Student Affairs by filling out a club certification packet each academic year.
Past & Present Student Organizations
Student clubs and organizations waiting for interested students like YOU!
Black Student Union
Biology Club
Chemistry Affiliate
Club Spectrum, Miramar's LGBTQ+ Student Organization
Cultural Appreciation Club
Developer Student Club San Diego Miramar College
Diesel Club
Fire / EMT Club
Human Movement Club
Journalism Club
Latinx Con Voces
Miramar Business Club
Miramar CRU (Campus Crusade for Christ International)
Miramar Girls Who Code
Music Club
Persian Club
Phi Theta Kappa
Political Science Club
San Diego Miramar Computer Science Organization
San Diego Miramar Paralegal Club
Shelf Love
Student Veterans Organization
Sustainability Club
Zion Bible Study Club
---
A Message from ASG President Borek
As ASG President, I have an open-door policy and know that I was elected to serve you, the student.  I have dedicated weekly office hours, and I encourage you to get in touch.  My goal is to serve all students as best I can.  My top priorities as ASG President are to advocate for more open education resources, more comprehensive student services, increased student outcomes—particularly for traditionally underserved groups, and increased student and community engagement as we transition back to in-person instruction.​​​​

—Edward Borek