(Updated on July 7, 2021)
Dear perspective MLTT students,
Thank you for your patience and interest in the MLTT program.
The application for the Spring 2022 cohort will open on October 1, 2021 and close on October 15, 2021. 
We have also updated our recency requirement to five years  per advisory board input and NAACLS standards.
Below are the information that you will be ask to submit and gather.
Personal information including CSID (SDCCD student ID number)

Verification of completion of pre-requisites and recency (date and location)

Submission of Unofficial transcript of pre-requisites. If you completed all of your pre-requisite with SDCCD, you do not need to turn in an unofficial transcript.

Acknowledgement of program requirements and technical requirements

Official transcripts from other institution(s) will need to be submitted to Evaluations at San Diego Community College District and formally evaluated to be equivalent to our pre-requisite requirement.

Please review most recent

 

Student Handbook

 

prior to applying to the program.
Only completed application will be entered into a lottery to determine the order of admission. Spring 2022 classes are scheduled as face-to-face class only in the 9-2pm hours Monday through Thursday.
Should you have any more questions, please don't hesitate to reach out to us at miramarmltt@sdccd.edu. Our typical response time will be about 3 business days.
---
What is a Medical Laboratory Technician?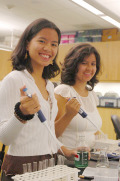 According to the American Society for Clinical Pathology,
a medical laboratory technician (MLT) performs routine tests in all areas of the clinical laboratory. A medical laboratory technician searches for basic clues to the absence, presence, extent, and causes of diseases. This skilled individual is responsible for performing laboratory tests efficiently and accurately for high-quality patient care.
To view a video on Clinical Laboratory Technician,
Technologist, and
Scientist, click
HERE

.
Does this program prepare me for the workforce?
The MLTT program at San Diego Miramar College is designed to produce trained individuals to enter the medical laboratory workforce as Medical Laboratory Technicians or clinical diagnostic companies in the local biotechnology industry. The program's primary learning outcome is to graduate competent, workplace-ready members of a laboratory team. The MLTT program is also designed to prepare students to take a national exam which when passed provides a California license as a Medical Laboratory Technician.
Expected employers include hospital labs, private clinics, clinical research organization (CRO) support services as well as the local biotechnology industry working in the area of diagnostics.
What are the prerequisites to the MLTT program?
Science Prerequisites for MLTT program:
BIOL 107 (General Biology—Lecture and Lab) or BIOL 131 (Introduction to Biotechnology) or equivalent coursework at an another college
BIOL 230 (Human Anatomy) and BIOL 235 (Human Physiology) or equivalent coursework at an another college
CHEM 100 (Fundamentals of Chemistry) and CHEM 100L (Fundamentals of Chemistry Lab) or CHEM 152 (Introduction to General Chemistry) and CHEM 152L (Introduction to General Chemistry Lab) or CHEM 103 (GOB Chemistry) or equivalent coursework at an another college
CHEM 130 (Introduction to Organic and Biological Chemistry) and CHEM 130L (Introduction to Organic and Biological Chemistry Lab) or or CHEM 103 (GOB Chemistry) or equivalent coursework at an another college
Students also need other academic coursework equivalent to an Associate Degree from a two year college. This coursework does not need to be completed prior to entering the MLTT program, but will be needed for the California licensure. For more information about the program, please consult the student handbook.
What are the admissions requirements for the MLTT program?
Students wishing to take the Medical Laboratory Technician Training program classes must have successfully passed all of the prerequisite classes at San Diego Miramar College or the equivalent classes at other institutions of higher education. Students seeking course equivalency from other institutions should visit a Miramar College counselor and submit official transcripts to the Evaluations office per instructions here.
For those who have completed the prerequisites, admission into the MLTT Program is by lottery. We urge all prospective students to attend an info session if one is available to make sure the program is a good fit for you. You must file an application by June 1st to start in the Spring semester. You must re-file for each year. The application is to check recency of prerequisites. Completed applications that meet the requirements will be put in a lottery to determine which applicants will start.
What courses are needed for the MLTT program?
Below is the required coursework needed for the program.
| Course Number | Course Name | Units |
| --- | --- | --- |
| MLTT 201 | Clinical Chemistry and Urinalysis | 4 |
| MLTT 202 | Clinical Hematology and Immunology | 4 |
| MLTT 203 | Clinical Microbiology | 4 |
| MLTT 204 | Principles of Blood Banking | 2 |
| MLTT 061 | Directed Clinical Practice in Clinical Chemistry | 3 |
| MLTT 062 | Directed Clinical Practice in Clinical Hematology/Urinalysis/Coagulation | 3 |
| MLTT 063 | Directed Clinical Practice in Clinical Immunology and Immunohematology | 3 |
| MLTT 064 | Directed Clinical Practice in Clinical Microbiology | 3 |
Certificate of Achievement:
Certificate of Achievement in Medical Laboratory Technology
Degree:
Associate in Science in Medical Laboratory Technology