Calling All Alumni!
Since 1969, San Diego Miramar College has trained more than 10,000 law enforcement and firefighter professionals. Since those early days, in addition to our well-respected public safety graduates, highly skilled diesel, automotive and FAA-certified aviation technicians, EMTs, biotechnicians, paralegal, computer and child development professionals have walked across our commencement stage.
Add to those numbers the many thousands of Miramar College students who have successfully transferred to four-year colleges and universities to continue their higher education and you can see why we are proud of our legacy. If you are equally proud to have graduated or transferred from Miramar College, join the Alumni Association. If you attended Miramar College, we'd like to hear from you!
Sign up now to receive updates from your alma mater!
Connect With Your Classmates
Being part of Alumni Connections is a great way to reconnect with old classmates, read Alumni Success Stories, discover shared interests with fellow members, network with like-minded professionals, stay involved in what's new at Miramar College, participate in college social events, and make a difference in your community.
It's FREE and it's easy to connect. Visit http://alumni.sdccd.edu to register. If you've attended multiple colleges, you can easily connect with groups from each college.
Connect With Your Alma Mater
...and enjoy real benefits by registering with the Miramar College Alumni Association. By taking just a few moments to register, you'll receive periodic campus news updates, invitations to special events, and a membership card you can use to enjoy free admission to home Jets games, discounts at the bookstore, cafeteria, and more. It's FREE and a great way to stay connected with your alma mater.
Sign up now to become a member of the Miramar College Alumni Association!
Distinguished Alumni
In 1995, the College began a tradition of recognizing Distinguished Alumni at annual commencement ceremonies. The following individuals are an inspiration for all students.
2016 Distinguished Alum
Brian Fennessy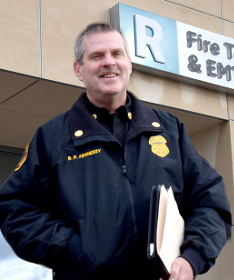 Miramar College recently named San Diego Fire Chief Brian Fennessy as its 2016 Distinguished Alumni. Fennessy graduated from the October 1990 Fire Academy at Miramar College and was promoted to San Diego's Fire Chief in November of 2015. He became just the 17th Fire Chief in the history of San Diego as he succeeded Javier Mainar. Fennessy has 38 years of firefighting experience that began with the U.S. Forest Service. He joined the San Diego Fire-Rescue Department in 1990 and rose through the ranks.
One of Fennessy's most notable accomplishments is being the driving force in developing and implementing the City's helicopter program. The City now has two firefighting and rescue helicopters with night-flying capability that are available for water drops and rescues throughout the county. These helicopters are the only air resources in the region capable of providing night firefighting operations.
---
Previous Winners
2015

Shelley Zimmerman
San Diego Police Chief

2014

Sean Bowers & Rebecca Bowers-Gentry
Professors, Miramar College

2013

Gregory Magaril
Technology and Software Executive

2012

Adolfo Gonzales
Police Chief

2011

Yanina Gabinskaya
Immigration Paralegal

2010

Shannon Rupert
University Professor/NASA Scientist

2009

Valerie Gotay
Judo Olympian

2008

Monika Fitzsimmons
ER Nurse, Grossmont Hospital

2007

Tracy Jarman
Chief, City of San Diego Fire-Rescue

2006

Sam Phu
Business Owner, Automotive Educator

2005

Dr. Michelle Lamantia
Physician

2004

Dr. Rex Vargas
Pharmacist

2003

Officer Paddy Keovoravongsa
San Diego Police Department

2002

Dr. Iyad Houshan
Physician

2001

Linda Reed
Officer, San Diego County Protective Services

2000

Jan Dehesh
Businesswoman/Consultant
Peter Davis
Statewide ATT Director

1999

Elizabeth Barrington
Professor
Dr. Tuyet Nguyen
Physician

1998

Lydia Signorelli
Educator
Edward Dacquel
Businessman

1997

Rose DeMarco
Educator/Business Consultant
Tom Remy
Corporate Marketing Director, Hawthorne Machinery

1996

Junko Yamamoto
International Artist
Tim Cassidy
Attorney/Real Estate Broker

1995

Jerry Sanders
Mayor, City of San Diego (then SD Chief of Police)
Monica Higgins
Fire Battalion Chief, City of San Diego Fire Department