Computer Business Technology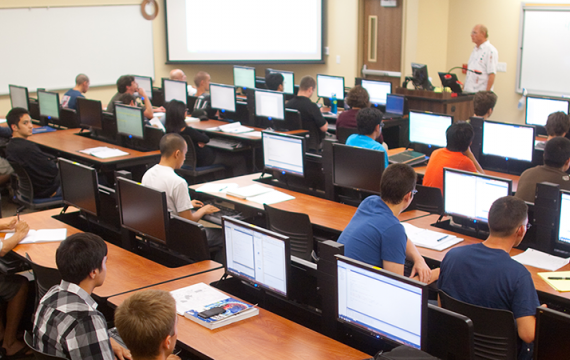 Computer Business Technology

The Computer Business Technology program provides theory and hands-on training in major office systems, webpage design, and technology used to enhance productivity and communications. Students are prepared, through extensive coursework, with the necessary skills and knowledge for initial employment in the field of business.
Degree & Certificate Programs
For questions or more information, contact miramarcareered@sdccd.edu.
This program's related interest areas:
Students who complete the Computer Business Technology program will be able to work in various positions upon graduation, such as:
Entry-level administrative assistants
Entry-level webpage designers
Desktop publishers
Word processors in a variety of occupations
Certificates & Degrees
Administrative Assistant, Website Designer
Administrative Assistant (Computer Business Technology)
Student Learning Outcomes
Students who complete the Computer Business Technology Program will be able to:
Demonstrate proficiency in using software applications to enter data, format and organize data, complete calculations, graph data, create templates, develop professional reports, forms, and queries, and produce professional looking presentations
Use graphical design principles such as desktop publishing and web site development to create and enhance electronic forms of communications
Perform various online business transactions including the use of different search techniques
Identify effective business communications skills