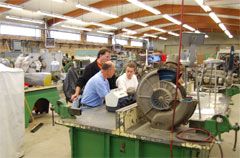 Aviation maintenance technicians maintain private and commercial aircraft in Federal Aviation Administration (FAA) airworthy condition. They perform routine maintenance, minor and major engine overhauls, inspection and repair of aircraft systems, 100-hour and/or annual FAA inspections to assure airworthiness. With your FAA Airframe and Powerplant (A&P) Technician Certificate, you will be qualified to conduct service, repair, and some inspection related duties upon airframes, sub-assemblies or powerplants. This certificate is the keystone to any position in the aviation manitenance industry, from general assembly work to top level maintenance management. You will have a solid foundation to launch into any aspect of aviation maintenance or to pursue other related aviation careers.
The Sky Is The Limit
The aviation industry is at a crossroads. It's faced with rapid growth of international air traffic, replacement of aging domestic commercial fleets and retirement of the current pool of qualified employees. More than 70,000 new engineers, technicians and maintenance specialists will be needed nationwide over the next few years. Worldwide, certificated aviation technicians will be in demand for many years to come.
Topflight Training
Miramar College offers the only FAA approved Part 147 Aviation Maintenance Technology School in San Diego County ID# M9065R.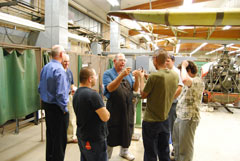 You can earn a certificate of achievement toward your A&P certificate or an associate's degree in airframe technology, powerplant or both. The curriculum includes more than 1,900 hours of instruction designed to be completed in three, four or five semesters.
Classroom study and practical, hands-on experience bring you up to speed on aircraft structures; powerplants and subsystems; aircraft engine operations, and general maintenance/repair techniques. FAA qualified instructors provide personal attention to help you gain proficiency in each segment of the program. Emphasis is placed on the students mastery of job-related skills. This builds self-confidence and helps to assure a 100% success rate on the FAA written, oral and practical examinations.
Work Experience
Along with classroom instruction and workshop experience, you may opt to earn credit for paid and unpaid employment planned and supervised by Miramar College and the employer.
Why Pay the High Price of a Trade School?
Miramar College is a community college with low tuition set by the California State Legislature. Nonresidents of California pay an additional tuition fee. Students are expected to provide their own basic hand-tool set. Veterans Affairs (VA) benefits, scholarships and financial aid are available for tuition and tools.
Job Placement
Graduates of the program may use the San Diego Community College District's job placement and counseling services to help them seek employment. Aviation maintenance technology instructors also assist graduates in finding jobs, and creating internships through partners in industry.
Enrollment
Enrollment is open to high school graduates and anyone over 18 years of age, with or without a high school diploma. Applicants should be mechanically adept and possess basic math and English skills as per the college catalogue. Day and evening classes are offered to fit your work schedule.