Exercise and Nutritional Sciences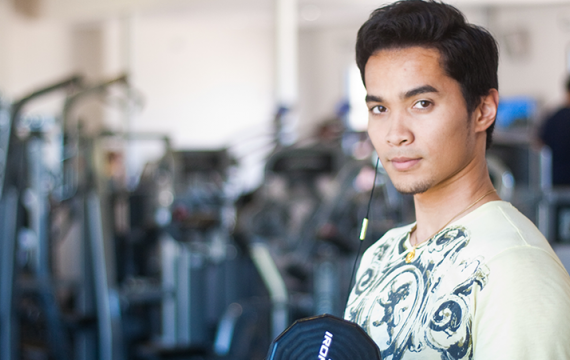 Exercise and Nutritional Sciences
The Exercise and Nutritional Sciences program provides a strong science-based foundation to effectively prepare students to transfer to a four-year university in a health, fitness, or nutrition-related discipline. With an emphasis on empowering and educating individuals to improve their overall health and well-being through physical activity and healthful nutrition, this program offers flexible course selection and multiple degree options designed to prepare students for a variety of career paths. The Exercise and Nutritional Sciences Program offers the following degrees:
Exercise and Nutritional Sciences
Kinesiology
Nutrition and Dietetics
The Exercise Science program offers a variety of activity courses. Facilities include a state-of-the-art fitness center, fieldhouse gymnasium, and classrooms in addition to facilities that include a 32-acre complex of fields for softball, soccer, sand volleyball, and tennis. The program also offers classes in a three-pool aquatic complex. Lower division theory courses provide the curricular foundation necessary to complete university transfer requirements and earn a transfer-related associate degree. 
The Exercise Science Program also offers an ever increasing Athletics Program of Women's Soccer and Water Polo, as well as Men's Basketball and Volleyball. More athletic programs are planned for the near future! For more information visit Miramar Jets Athletics
 San Diego Youth Basketball Camps - This summer, Miramar Jets Athletics, will be hosting youth basketball camps in San Diego. These are affordable and high-quality basketball camps held at San Diego Miramar College. 
Follow Miramar Athletics on Instagram
Students may also be interested in the following Programs:
Program Learning Outcomes
Students who complete the Exercise Science program will be able to:
Transfer into a Kinesiology (or related) program of study at a four-year institution.
Explain the research-supported physiological and psychological benefits of physical activity.
Describe and apply current nutritional guidelines to enhance physical health and well-being.
Exhibit theoretical comprehension and competence in all health, exercise science, and nutrition discipline courses.
This program's Academic & Career Pathways:
Common university majors related to the field of Exercise Science include:
Athletic Training
Exercise Physiology
Health Promotion
Kinesiology
Nutritional Sciences
Physical Education
Pre-Physical Therapy
Recreation
Students who plan to transfer to a four-year college or university in this discipline should consult with a counselor or visit the Transfer Center to determine the appropriate major preparation courses for their specific transfer institution and major. More information on transfer programs and procedures is available in the Transfer Guide section of the catalog.
Associate of Science
Associate of Science for Transfer
Program Costs
 Enrollment Fee
The current enrollment fee is $46.00 per unit. The enrollment fee is assessed on all students, including nonresidents.
Exemptions from the enrollment fee are available to students who qualify for one of the following:
California College Promise Grant (CCPG)
Temporary Assistance to Needy Families Program (TANF)
Supplemental Security Income/State Supplementary Program (SSI)
General Assistance Program
Indentured apprentices are exempt from enrollment fee for Apprenticeship Program classes only
Special admission concurrently enrolled high school students
Additional Financial Aid may be available to students who qualify for assistance.
See Financial Aid for more information.
NONRESIDENT TUITION
As of Fall 2020, the nonresident tuition fee is $290 per unit.  This fee is in addition to the enrollment and health fees, for students who are not residents of California for tuition purposes.
Residents of California are entitled to attend a community college by paying the community college enrollment fee. For complete details, go to Tuition & Fees and also refer to the Class Schedule.
Nonresidents must pay the enrollment fee plus nonresident tuition. For complete details, go to Tuition & Fees and also refer to the Class Schedule.