Economics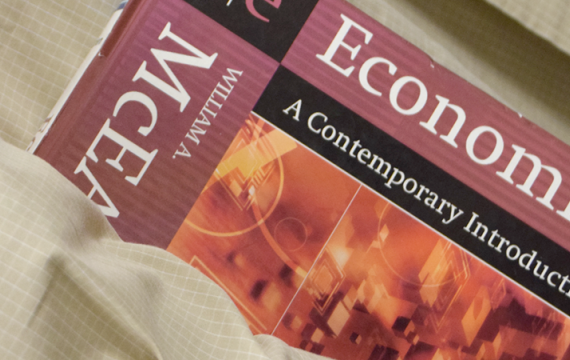 Economics

Economics is the study of how people choose to use resources such as money, labor, land, or equipment. Economists study the allocation and use of these resources by households, firms, and governments. They also study components of economic systems such as markets, monetary and fiscal policy, and economic activity and growth. The Economics program provides students with knowledge and skills in the areas of:
Economic terms, concepts and theories.
Global, historical and institutional economic forces.
The application of economic theories and concepts to social issues.
The role of ethical values in economic decisions.
Quantitative reasoning.
Program Learning Outcomes
Students who complete the Economics program will be able to:
Understand the function of market and prices as allocative mechanisms.
Apply the concept of equilibrium to both microeconomics and macroeconomics.
Determine indicators and measures of economic change.
Understand concepts underlying comparative advantage.
Identify types of market failures.
Analyze the impacts of economics on social values and policy.
This program's Academic & Career Pathways:
Careers in this field
Common university majors related to the field of Economics include:
Actuarial Sciences
Agricultural Economics
Applied Economics
Business Economics
Global Economics
International Economics
Managerial Economics
Mathematical Economics
Political Economy
Pre-Law
Public Policy
Quantitative Analysis
Social Science Economics
Statistical Economics
Students who plan to transfer to a four-year college or university in this discipline should consult with a counselor or visit the Transfer Center to determine the appropriate major preparation courses for their specific transfer institution and major. More information on transfer programs and procedures is available in the Transfer Guide section of the catalog.
Important Documents
Economics Faculty
Otto Dobre
odobre@sdccd.edu