Chemistry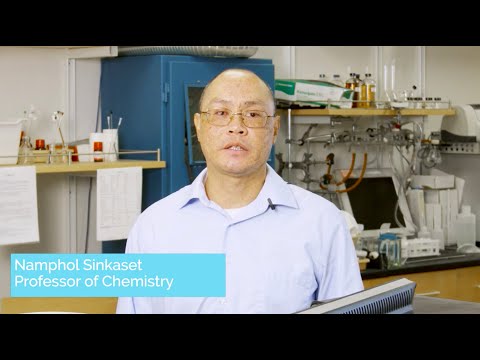 Chemistry
The Chemistry program fosters an understanding of the fundamental principles of chemistry in a variety of applications – medicine, healthcare products, energy, food production, body metabolism, structural materials, microelectronics, and the environment. Students learn how chemical knowledge is derived, theorized, and applied in solving problems in everyday life. Students perform experiments in a modern chemistry laboratory under the guidance of experienced faculty. The curriculum is designed to meet the needs of students who wish to pursue a major in fields such as: (1) chemistry, biology, marine science, geology, physics, medicine, engineering, or technology; (2) paramedical or allied health science, including nursing, physical therapy, or nutrition; or (3) liberal arts. Courses will also meet general education requirements for both the two and four-year institutions.
Program Learning Outcomes
Students who complete the Chemistry Program will be able to:
Be proficient in the nomenclature, reactions, calculations, concepts, and theories common to first- and second-year general and organic chemistry courses at a level that is competitive with other students upon transfer to a 4-year college/university or entrance to a professional school.
Successfully perform and communicate information related to experiments involving chemical equipment, measurement, and data collection.

 
This program's Academic & Career Pathways:
Careers in this field
Undergraduate degree is sufficient for entry-level positions such as lab coordinator, research assistant, product testing or analysis, technical sales or service representative.
Master's degree is sufficient for most applied research positions, industrial work and some community college teaching.
Ph.D. degree required for university teaching and advanced positions in management and research and development. Postdoctoral experience may be required for research positions in industry, universities and government.
Develop strong computer, mathematics, and science skills/knowledge. Consider electives in computer science, engineering, business, public speaking, and writing.
Careers Relating to Chemistry Majors
Agricultural Chemistry
Analytical Chemistry
Biochemistry
Chemical Engineering
Geochemistry
Inorganic Chemistry
Material Science
Organic Chemistry
Physical Chemistry
Polymer Chemistry
Education
Healthcare
Transfer Options in Chemistry
Common university majors related to the field of chemistry include:
Chemistry
Biochemistry
Chemical Engineering
Chemical Physics
Environmental Chemistry
Students who plan to transfer to a four-year college or university in this discipline should consult with a counselor or visit the Transfer Center to determine the appropriate major preparation courses for their specific transfer institution and major. More information on transfer programs and procedures is available in the Transfer Guide section of the catalog.