About the Program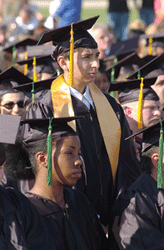 The Honors Program at Miramar College offers highly motivated students an enriched learning experience. We offer both Honors sections and individual Honors contracts for students in non-honors sections.
An Honors Contract is an agreement between a professor and a student in a regular (non-honors) section to design a mutually enriching experience enhancing the course's curriculum. The agreement uses honors level attributes to guide the student and professor in developing Honors assignments. Unit credit remains the same as a regular course.  Honors level attributes include: a higher degree of student participation in the class; more opportunities for research; more opportunities for classroom presentations; more supplementary reading, especially primary sources; and stronger enhancement of skills in critical thinking, analysis, and interpretation.  For a full list of honors attributes, see the How to Sign Up for Honors Contracts guide under Important Documents.
Key Program Highlights
There's no application to be an Honors Program student.  Students are Honors Program students if they've completed an Honors course or contract.
There's no minimum GPA required to participate in Honors.
Honors contracts can be offered in all modalities--in person, hybrid, and fully online.
Honors contracts can be offered in all transfer-level courses in all sessions during fall and spring semesters, including short term classes.
Important Notice - FALL 2022 UPDATE
The District has launched a much easier roster-based process for signing up for an Honors Contract. No Honors Contract form is needed.  Professors can go to their college faculty portal's roster follow up screen to invite students to sign up for an Honors Contract.  Students will receive a notification to apply for Honors via "My To Do List."  Questions about the new process?  Contact us!
Miramar College Honors Program Coordination Team
How Do I Become an Honors Student?
Register for Honors 

 designated courses the same way as you would register for any other course.  OR communicate with your instructor your request to convert your non-Honors section into Honors. 
How Does Joining the Honors Program Benefit Me?
The Benefits of Honors:
Guaranteed priority admission consideration to a number of prestigious universities, including UCLA, UC Riverside, UC Irvine, and others
Honors to Honors Transfer to SDSU
Honors designation on your transcript
Student Centered Learning Environment
Designated Honors Counselor
Leadership development opportunities
Consideration for scholarships
Use of resources from beyond the campus itself, such as university libraries
Many courses taught from a global perspective
Invitation Only Conferences and Receptions
Scholarships
Earn the Honors Global Competencies Certificate (see below for details)
Study a subject in your major or another subject you love in greater depth
Get career experience through internships or volunteer work
Build a support network in a field you want to enter
How Do I Complete the Honors Program?
Although there is no number of honors units that are required to be a member of the Honors Program, some transfer agreements have additional requirements.  Honors students who do complete the following will receive an Honors Program Completion Certificate.  
1. Complete 15 units in Honors coursework within the San Diego Community College District (Minimum 6-units completed at Miramar College)
2. Have a minimum GPA of 3.25 overall
3. Meet any one of the following:
Complete the Honors Global Competencies Certificate of Performance
Join Beta Iota Lambda, the Miramar College chapter of Phi Theta Kappa International Honor Society
Present research at a research symposium or conference
Be accepted for transfer and/or complete requirements for the Associate's Degree
About The Program
The Honors General Education Core at Miramar College offers both honors courses and honors contracts, written agreements between the student and the instructor in a regular (non-honors) section. Both honors courses and honors contracts receive the same "honors" designation on the student transcript.
Spring 2023 Proposed Honors Designated Classes:
English 205
History 110
Sociology 101
Spanish 201
Fall 2022 Proposed Honors Designated Classes
English 101
English 249A
History 109
Spanish 101
Contact Us
HONORS OVERVIEW