Political Science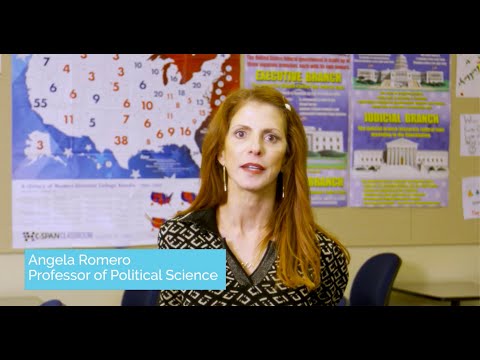 Political Science
Political science is the study of human behavior as it relates to political situations. It involves the examination of institutions, processes, people, ideas and policies. The study of political science develops critical thinking, cultural literacy, and other skills important for an active and informed citizenry. The primary objectives of the Political Science program are to meet the American Institutions and general education requirements for associate and baccalaureate degrees. The political science program prepares students for a bachelor's degree in political science, which can lead to exciting careers in federal, state and local governments; law; business; international organizations; nonprofit associations and organizations; campaign management and polling; journalism; pre-collegiate education; electoral politics; research and university and college teaching.
Program Learning Outcomes
Students who complete the Political Science program will be able to:
Comprehend information from a variety of sources.
Integrate logical thinking, including informed fact and assessment, based upon theories and practices in the field, tying together classical and contemporary ideas of political theory and practice, including international relations, local and national government, interest groups and other modalities of the political landscape.
Organize the comprehension of the fields of Political Science as expressed through written and oral sources.
Apply appropriate learning and analysis theories within the field, explain these through writing and oral methodologies.
Develop skills in problem solving, communication, critical thinking within the interrelationship of Political Science to other fields of the social sciences.
This program's Academic & Career Pathways:
Careers in this field
Undergraduate degree in political science is good for preparation for graduate or professional study in areas such as political science, public administration, foreign policy, law, business, etc.
Prepare for high competition for federal positions with a strong academic background and good experience
Develop strong leadership skills by: running for office in clubs and organizations, school, or community; volunteer to organize or lead an event or project
Careers Relating to Political Science
Local and State Government  
Federal Government 
Law 
Politics 
International 
Affairs 
Business 
Nonprofit 
Media
Transfer Options in Political Science
Common university majors related to the field of Political Science include:
Anthropology/Sociology
Communications
Criminal Justice
History
Journalism
Philosophy
Women's and Gender Studies
Economics and Finance
Ethnic Studies
History
International Business
Latin American Studies
Peace and Conflict Studies
Students who plan to transfer to a four-year college or university in this discipline should consult with a counselor or visit the Transfer Center to determine the appropriate major preparation courses for their specific transfer institution and major. More information on transfer programs and procedures is available in the Transfer Guide section of the catalog.