Interdisciplinary Studies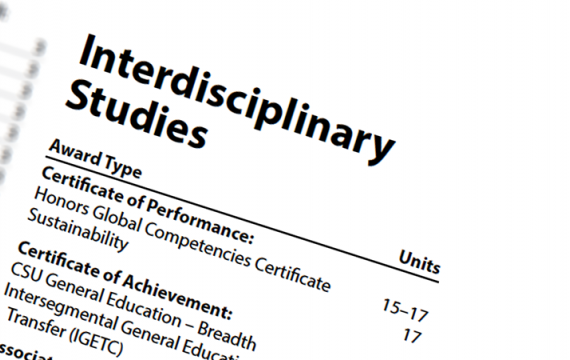 Interdisciplinary Studies
Interdisciplinary Studies is a general term referring to instructional programs that incorporate coursework from a variety of different subject areas. The Interdisciplinary Studies program includes certificates and degrees designed to provide a broad exposure to a variety of subject areas. The program is designed to prepare students to transfer to a four-year university and/or to gain a broad exposure to a variety of subject areas.
Program Learning Outcomes
Students who complete a certificate or degree in the Interdisciplinary Studies Program will be able to:
Demonstrate integrative and applied learning.
Demonstrate critical inquiry, analysis, thinking, writing, and quantitative skills.
Demonstrate knowledge of human cultures and the physical and natural world.
Demonstrate intellectual and practical skills.
Demonstrate personal and social responsibility
This program's Academic & Career Pathways:
Careers in this field
There are several unified themes that students choose depending on their career goal.
Disciplines within Interdisciplinary Studies may include clusters of: Chemistry, Biology, and Public Health
Other examples include: History, Criminal Justice, and Political Science
Careers Relating to Interdisciplinary Studies
Pre-medicine
Physician Associate
Pre-Law
Teaching
Social and Behavioral Sciences
Media
Tourism
Transfer Options in Interdisciplinary Studies
The Interdisciplinary Studies Program prepares students for various university majors and work in professional fields. Students planning to transfer to a four-year college or university should complete courses required for the university major and the general education pattern required by that transfer institution. Students should consult with a counselor or visit the Transfer Center to determine the appropriate major preparation courses for their specific transfer institution and major. More information on transfer programs and procedures is available in the Transfer Guide section of the catalog.
Associate of Science
Certificate of Performance
Honors Global Competency Certificate