History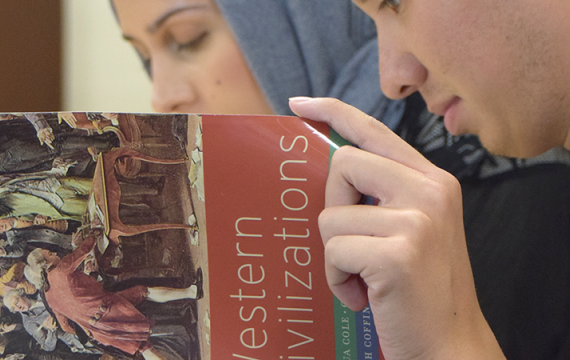 History
History is the study of human experience from the dawn of time to the present. It examines people, institutions, ideas and events of the past and the present. The primary objectives of the History program are: fulfillment of general education requirements for American Institutions, Humanities and Social Sciences; completion of the Associate of Arts degree; and preparation for transfer to four-year institutions and completion of general education requirements for students enrolled in four-year institutions.
The courses in this program emphasize a number of Program Learning Outcomes, primary being the development of critical thinking and communications skills to analyze problems, conceptualize theses, develop arguments, weigh evidence and derive conclusions; development of the ability to articulate the critical thinking outcomes through writing and/or speaking or by other modes of communication; and the development of an awareness of civic responsibilities and a thorough knowledge of global issues.
Program Learning Outcomes
Students who complete the History program will be able to:
Demonstrate knowledge of key historical facts, values, and ideas that have shaped civilizations throughout history.
Critically analyze primary and secondary sources in college-level essays, written assignments, and research papers.
Demonstrate historical skills through written and verbal communication of arguments, analysis and conclusions of historical topics.
This program's Academic & Career Pathways:
Degrees & Careers
University Majors & Degrees (History Related)
History
Liberal Studies
Social and Behavioral Sciences
International Studies
Africana Studies
Chicana/Chicano Studies
Administrative Studies
Renaissance Studies
Students who plan to transfer to a four-year college or university in this discipline should consult with a counselor or visit the Transfer Center to determine the appropriate major preparation courses for their specific transfer institution and major. More information on transfer programs and procedures is available in the Transfer Guide section of the catalog.
Careers with History Focus
Archivist (Museum or Business)
Law/Legal
Librarian
Journalist,
Museum Curator
Public Historian
Professor
Researcher
Teacher
Writer
Most careers in history require education beyond the associate degree and some require a graduate degree. This is not a comprehensive list but some of the most common career options with history preparation.