Graphics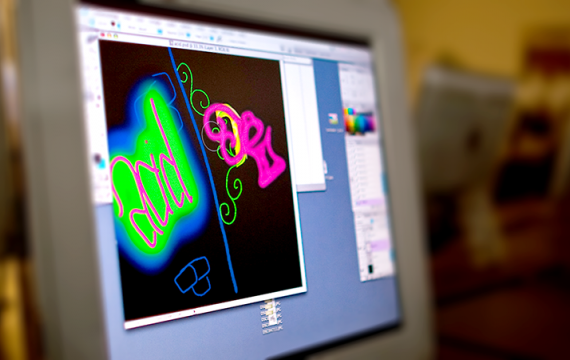 Graphics
The Graphics program provides the graduate with the demonstrable skills, documented experience, a portfolio of evidence, and the personal confidence to enter a career in which the ability to create, produce, and effectively use graphic identity and communications is a critical requirement. The program is task-oriented, intended to provide "embedded skills" beneficial to most careers.
Program Learning Outcomes
Create communications in typography and images using computers.
Develop craftspersonship skills for building computer files for screen and print output.
Evaluate and analyze the role of graphics in historical and contemporary societies.
This program's Academic & Career Pathways:
Careers in the field
Approximately 20% of graphic designers are self-employed. Freelance designers must develop strong networking and sales skills, as well as flexibility. Schedules may vary according to demands and workloads.
Successful graphic designers are in-touch with changing consumer preferences and react to new trends. They exhibit strong listening and communication skills, as identifying consumer needs is critical. They are effective problem solvers.
Be prepared to start entry-level and work your way up the career ladder. Take a first job based on the industry and type of design you desire to work with because work from your first job will comprise your professional portfolio. Continually update your portfolio.
This field is highly competitive. Many new jobs will be associated with interactive media and end user contribution to design. Consider taking classes in website design and animation to increase marketability.
Careers Relating to Graphics Majors
Graphic Designer
Pre-Press Technician
Production Artist
Photographer's Digital Assistant
Public Relations Sign and Tradeshow Displays
Publications (newspaper, magazine, book)
Advertising
Gaming and Multimedia
Animation
Printing Trades
Food Industry Marketing
Financial/Business Services
Medical/Legal (forensic) Support
Business Information Management
Religious Organization Non-profit Support and Fund-raising
Museum and Gallery Staff
Art and Graphic Supply Sales
Art and Music Promotion
Direct Marketing
Additionally, companies and organizations hire employees with skills to work on a variety of graphics needs including:
Corporate Identity/Information
Packaging Merchandising Labels and Stickers
Imprinted Clothing
Award and Incentive
Product Imprinting
Directories
Cards
Department of Arts (visual & Performing)
Chair: Jessica McCambly
H-112B