English Language Acquisition (ELAC)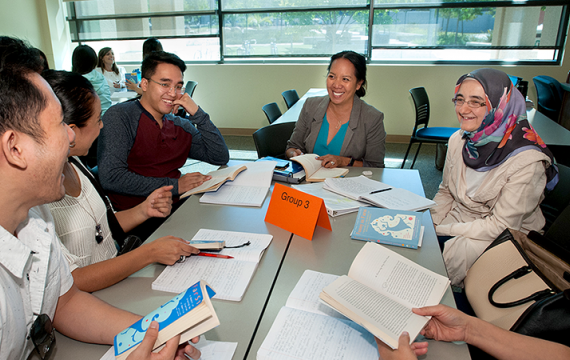 English Language Acquisition (ELAC)
What is ELAC? 

In the San Diego Community College District, our ESL program is called English Language Acquisition (ELAC).
ELAC classes are not basic or remedial. These classes are for students who speak multiple languages and are studying English at intermediate or advanced levels. Students in ELAC classes will learn the skills needed for college courses in the United States. Many ELAC students have an eventual goal of transferring to other universities or changing careers. 
The Advanced ELAC program recognizes a high level of English language achievement. Students who earn this award have successfully completed advanced ELAC coursework in grammar; writing; reading, listening, and speaking skills; and critical thinking. 
Student Learning Outcomes
Students who complete the ELAC program will be able to:
Write an essay with a thesis statement that is clear, direct, and answers the prompt.
Write supporting paragraphs with major and minor details related to each topic sentence.
Organize writing with unity and coherence.
Speak, read, and write with a variety of complex sentence and grammatical structures with minimal errors that do not interfere with meaning.
Express a clear and coherent opinion about a selected topic and provide at least two points of appropriate support for an opinion in a speech of three to five minutes.
This program's Academic & Career Pathways:
ELAC is not directly applicable to any particular college-level majors. Foreign-language students who place at Assessment skill level L40 or below must successfully complete ELAC 40 and ELAC 32 before enrolling in English 48 and English 49, which are pre-transfer level reading and writing courses. Students enrolled in the ELAC program who plan to transfer to a four-year college or university should consult with a counselor to determine the appropriate preparatory courses for their specific transfer institution and major. More information on transfer programs and procedures is available in the Transfer Guide section of the catalog.
Department of English & World Languages
Chair: Adrian Arancibia
H-110I
School of Liberal Arts
Dean: Lou Ascione
Program Pages