Automotive Technology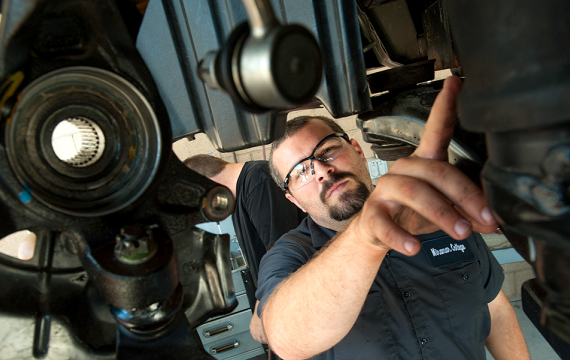 Automotive Technology
The Automotive Technology program provides both classroom theory and extensive hands on (shop) entry-level employment training as well as professional upgrading to persons in the automotive industry. The program provides training for each of the areas tested for National Institute for Automotive Service Excellence (ASE) certification, and Bureau of Automotive Repair training for state licenses as well. Certificates of Achievement are offered in Automotive Chassis, Automotive Electrical, Automotive Engine Performance, and Automotive Transmissions. A Certificate of Performance is offered for Advanced Emissions Specialist. 
Degree & Certificate Programs
Automotive Faculty
John Loewenberg
Recruitment coordinator
jloewenb@sdccd.edu I 858.956.4495
Joseph Young
Department Chair / Honda PACT Coordinator
jyoung@sdccd.edu I 619.388.7672
Mark Dinger
Toyota T-TEN coordinator
mdinger@sdccd.edu I 619.388.7642
Martin Kennedy
Mopar CAP Coordinator
mkennedy@sdccd.edu I 619.388.7711
For questions or more information, contact miramarcareered@sdccd.edu. 
This program's related interest areas:
Employment may be found as an entry-level automotive technician in an automotive manufacturer dealership such as Honda/Acura or Toyota/Lexus, an independent repair garage, or automotive repair franchises.
Some of the many career options in the field of Automotive Technology include:
Maintenance Technician
Repair Technician
Master Technician
Shop Foreman
Dispatcher
Service Advisor
Service Manager
General Manager
Shop Owner
Warranty Administrator
Parts Counter Associate
Collision Repair Mechanical Technician
Vehicle Sales
Some managent-related career paths require study beyond the Associate Degree level.
Certificates & Degrees
Advanced Emission Specialist, Automotive Chassis, Automotive Electrical, Automotive Engine Performance, Automotive Technology, Automotive Transmissions
Advanced Emission Specialist
Automotive Chassis
Automotive Eletrical
Automotive Engine Performance
Automotive Technology
Automotive Transmissions
Student Learning Outcomes
Students who complete the Automotive Technology Program will be able to:
Accurately diagnose and repair light duty automotive systems and components.
Identify workplace health and safety compliance using regulations published by the Occupational Safety and Health Administration, and the Environmental Protection Agency.
Research automotive repair data, instructions, and specifications using printed material as well as computer data base systems.