Art & Visual Studies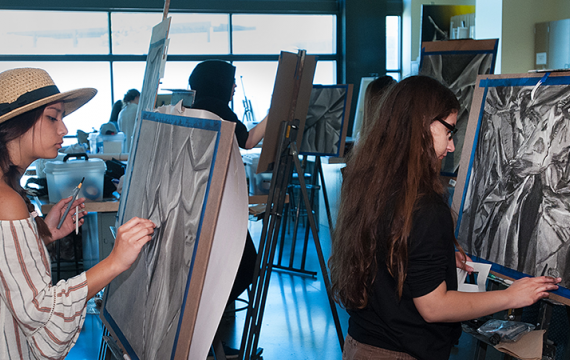 Art & Visual Studies
Art is the study of the arrangement of forms that affect the senses, communicate political, social, cultural, religious, or emotional ideas that manifest in scenes and through objects produced throughout the world. This field includes the study and design of both two-dimensional and three-dimensional art. The art program is designed to maximize transferable course units and to provide basic skills required for employment in art-related fields.
This program's related interest areas:
Common university majors in this field include:
Apparel Design and Merchandising
Art
Art Education
Art History
Creative Arts / Studies
Design
Graphic Communications
Graphic Design
Industrial Arts
Interior Design
Multimedia
Photography
Studio Art
Textiles
Students who plan to transfer to a four-year college or university in this discipline should consult with a counselor or visit the Transfer Center to determine the appropriate major preparation courses for their specific transfer institution and major. More information on transfer programs and procedures is available in the Transfer Guide section of the catalog.
Certificates & Degrees
Art/Visual Studies, Combined Drawing/Painting, Craft Skills, Studio Arts
Art-Fine Art Combined Drawing/Painting
Art-Fine Art Craft Skills
Art/Visual Studies
Craft Skills
Studo Arts
Student Learning Outcomes
Students who complete the Art/Visual Studies program will be able to:
Critically analyze, interpret, and evaluate works of art.
Develop a foundation of art skills and a high level of craftsperson ship by utilizing a variety of tools and technologies associated with the visual arts.
Use a diverse range of global events to express personal ideas and opinions through artwork.
Identify the theoretical, cultural and historical contexts of art.
Demonstrate appropriate skills needed to articulate their conscious artistic intentions, and express coherent aesthetics.