Anthropology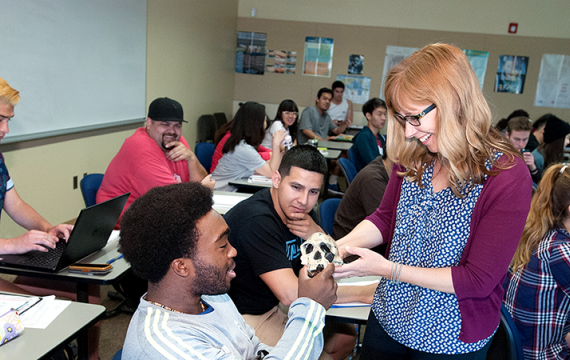 Anthropology
Anthropology is a scientific discipline that studies humans and human behavior. The subject is divided into five broad fields: physical, cultural, linguistic, applied anthropology, and archaeology. Physical anthropology is concerned with hominin evolution and the biological features of human populations. Cultural anthropology deals with cross-cultural studies of learned behavior, such as language, kinship, religion, food procurement, economics, and technology. Linguistic anthropology is the study of the origin and evolution of languages and how they are connected to people's behavior. Applied anthropology applies anthropological theories, concepts, and skills to promote change. Archaeology is involved in the recovery of material remains of past peoples with the objective of reconstructing the past. As both a biological and social science, anthropology seeks to understand and describe humankind.
Student Learning Outcomes
Students who complete the Anthropology program will be able to:
Think critically in reading, writing, and/or speaking about topics in Anthropology, thereby identifying problems, theses, arguments, evidence and conclusions.
Write or speak about topics in Anthropology, thereby addressing problems, formulating theses, making arguments, analyzing and weighing evidence, and deriving conclusions.
Demonstrate an ability to understand one's role in society, take responsibility for one's own actions, and make ethical decisions in complex situations.
Articulate the varieties of biological and cultural adaptations, and demonstrate an understanding of cultural pluralism.
This program's Academic & Career Pathways:
Common university majors related to the field of Anthropology include:
Students who plan to transfer to a four-year college or university in this discipline should consult with a counselor or visit the Transfer Center to determine the appropriate major preparation courses for their specific transfer institution and major. More information on transfer programs and procedures is available in the Transfer Guide section of the catalog.
Anthropology
Archaeology
Biological Anthropology
Global Studies
Conflict Resolution Studies
Peace Studies
Ethnic Studies
Women's Studies
Public Health
Museum Studies
School of Liberal Arts
Dean: Lou Ascione