CalWORKs

To schedule a remote counseling appointment, please click on the following link: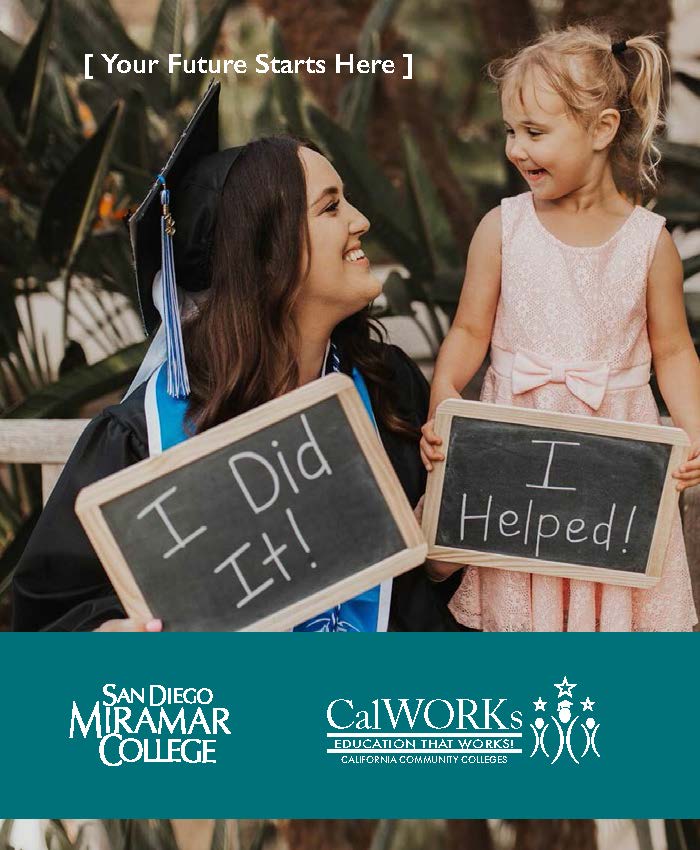 The California Work Opportunity and Responsibility to Kids (CalWORKs) is a statewide public assistance program that provides cash aid and services to eligible families that have a child(ren) in the home. The San Diego Miramar College CalWORKs Student Services Program helps students receiving CalWORKs (cash aid) to achieve long-term self-sufficiency through education and job training. Our main goal and focus is to lift families out of poverty through education.                  
Application for our program is available under "Important Documents." Make sure you download the application before you fill it out! Please give our office one week to process your application. Please also complete the "Technology Needs Assessment" so we can better understand your technology needs for being successful in college.                                                                                       
Eligibility Criteria:
 Must be a CalWORKs recipient receiving cash aid for themselves and at least one child
 Enrolled in at least 1 unit at Miramar College in a major that leads to employment
 Complete a San Diego Miramar College CalWORKs Student Services application
Program Services & Benefits:
 Priority registration
 Health fee waivers
 Coordination of county provided support services (textbooks, childcare, transportation, etc.)
 Academic, career, and personal counseling
 Work study opportunities
 Gas cards*
 Laptop/textbook lending library
 Student success and personal development workshops
 Psychosocial assessment and campus/community resource linkage
 Verification to County of your 20–35 hour welfare-to-work activities
 Cap and gown*
 School supplies*
 Job placement assistance
*Contingent upon funding.
San Diego Miramar College Mission Statement:
San Diego Miramar College's mission is to prepare students to succeed by providing quality instruction and services in an environment that supports and promotes success, diversity, inclusion, and equity with innovative programs and partnerships to facilitate student completion for degrees/certificates, transfer, workforce training, and/or career advancement.