General Information
Location: Miramar College, 10440 Black Mountain Road, San Diego, CA 92126. The Academy is located on the south end of the campus, off of Gold Coast Drive; however, recruits must park in the South Campus Parking Garage or student parking lot #1 located off of Black Mountain Road.
Students are required to have the all of the equipment listed below on the first day of attending the academy. All recruits will report by 0645 hours to a class, in the A-200 building (classroom number will be posted), wearing their Academy class 'B' uniform.
Uniform requirements: The following Class B uniform is required of all personnel attending the San Diego Regional Public Safety Training Institute:
Regulation Uniform Shirt: Short-sleeved, Dark Navy (blue) "Dickie" brand work shirt with two breast pockets with flaps, no patches or epaulets. Military creases and name plate will be required. Shirt model number is 1574-DN. NOTE: There are two navy colors; N = Navy and DN = Dark Navy .
Regulation Uniform Trousers: Dark Navy (blue) "Dickie" brand work pants, neatly pressed. Pants model number is 874-DN.
NOTE: There are two navy colors: N = Navy and DN = Dark Navy
Black Plain Toe Shoes: Low quarter, nonskid sole recommended. (High-Tec™ boots, three-eye ankle high shoes and smooth toed all leather boots are acceptable.)
Black socks: Standard black crew style dress socks.
Crewneck Tee Shirts: White, visible at neck, worn by men and women. Women must wear bras when in any Academy uniform.
Belt: Black, 1¼ to 1½ inches wide (1¼ is recommended), plain smooth leather or basket weave design. Department approved buckle.
Metal Name Plate: Engraved metal name plate (5/8 inches wide; first initial, last name, all uppercase lettering, block print, gold or silver by agencies preference).
Additional purchases:
P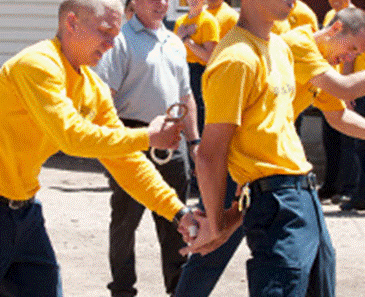 rior to the first day of the academy, each recruit is required to have in their possession POST Student Workbooks for the following testable Learning Domains: 2, 5, 6, 7, 8, 9, 10, 11, 12, 13, 15, 16, 17, 19, 20, 25, 26, 28, 30, 31, 33, 34, 35, 36, 37, 39, 40 and 43. P.O.S.T. Student Workbooks can be purchased from the Miramar College Book Store or through POST. 
Students will be required to purchase a current California Vehicle Code. This reference can be purchased at a DMV field office for $10.00 each.
Requirements For Training
Arrest & Control Training
Students must purchase a plastic mouth guard and some wrestling type black shoes that they will wear during all Arrest & Control training. These items are available at many sporting goods stores.
Emergency Vehicle Operations
Students shall possess a valid California Motor Vehicle Driver's License. A nonresident student shall possess a valid driver's license issued by the jurisdiction of which the student is a resident.
Firearms Training
Prior to the beginning of the Academy, specific information on ammunition, weapons and required equipment will be provided. Students must have the following equipment to start their academy firearms training: Firearm & holster, magazines and magazine pouch, flashlight ring, impact weapon ring/holder, OC/Mace holder and a duty belt. Sponsored recruits will obtain this equipment from their sponsoring agency. Open enrolled Miramar College students must provide their own (approved) equipment.
Physical Fitness Training
Students should minimally be capable of running 3 miles at a 9 minute mile pace, and performing 25 standard push-ups and sit-ups. Physical fitness training will include running, weight training, and calisthenics. Testing will be done periodically to determine the recruit's ability and progress. Tests will include the P.O.S.T. job related Work Sample Test Battery and general physical fitness testing (running, push-ups, and sit-ups). 
For training tips go to http://www.halhigdon.com.
Exercise clothing and running shoes: Recruits are required to bring a pair of dark shorts (black), white socks, required Academy PT shirt, and a pair of running shoes for a physical training session on the second day of the Academy. Female recruits will need an appropriate athletic bra. Male recruits will need an athletic supporter.
Report Writing
Open enrolled Miramar College students, must provide their own lap-top computers. If they are unable to provide a computer, they will be required to hand write their report writing assignments.
Tuition
Tuition fee is $46 per unit for California residents. Non-California resident tuition fee is an additional $307 per unit, with the academy totaling 24 units. Unsponsored students are responsible for tuition fees.  Agency billing will be coordinated for sponsored students. Any questions concerning residency, tuition or billing, contact Admissions at MiramarAdmissionsPublicSafety@sdccd.edu.