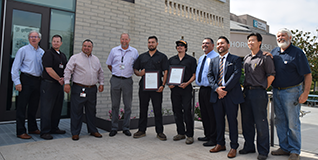 San Diego Miramar College diesel technology students Valentino Nevarez and Kevin Croan have been selected to compete in the American Trucking Association (ATA) and Truck Maintenance Council (TMC) Futuretech competition in Raleigh, NC Sept. 15-16. Both students, who are United State Marine Corps veterans, recently attended a "bootcamp" in Dallas, TX to train for the competition. Three officials from FedEx Freight, the company sponsoring Nevarez and Croan along with George Arrants, field manager medium- heavy trucks at the Automotive Service Excellence (ASE) were on campus Aug. 28 to present Nevarez and Croan with certificates to commemorate their selections.   
"This is a wonderful accomplishment for our students," said Gene Choe, professor of Diesel Technology at San Diego Miramar College. "Last Spring I was approached by George Arrants with Automotive Service Excellence (ASE). He invited our program to submit applications for FedEx sponsored positions in this Futuretech competition. The College submitted several applications and they selected 2 of our students to compete. Only 5 applicants total were selected nationwide. What an accomplishment for our diesel program!"
Valentino Nevarez-served in the United States Marine Corps for 8 years where he was a diesel mechanic in Afghanistan. Nevarez is in his last semester of the diesel program after which he will receive his associates degree. When asked about competing in front of hundreds of employers he said, "I have been to Afghanistan where I saved lives by fixing blown up trucks, I am not going to be intimidated by this competition."
Kevin Croan-served in the United States Marine Corps as an M1A1 battle tank operator. Croan has a bachelor's degree in math. He came to Miramar College to learn a trade, and entered the diesel program over a year ago seeking his certificate of achievement. Said Croan, "What an honor to have 2 students from the same college when only 5 were chosen nationwide. We now get to showcase our skills in front of potential employers."
TMC hosts Supertech, which is a nationwide heavy duty trucking competition. Dealers send their best technicians to compete in this event. Several years ago, Futuretech was created for post-secondary students. The competition, in its 15th year, will last two full days and have its highest number of competitors ever. Seventy-eight competitive work stations will be set up inside the 160,000 square feet Raleigh Convention Center. "This is a tremendous opportunity for students to show their skills on a national stage to industry leaders," said George Arrants, ASC field manager medium-heavy trucks. "Every station is important to industry for entry level employees."   
This is the first time the Miramar College Diesel program has participated in this event. FedEx Freight is footing the bill for Nevarez and Croan to attend the competition.
Update:
Valentino Nevarez placed 8th, and Kevin Croan placed 18th out of 48 contestants. One of the other FedEx contestants won the whole thing. Valentino received an individual station award for winning the trailer station.