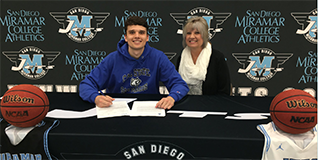 Sophomore men's basketball player Blake Seits has been named the 2019 Pacific Coast Athletic Conference Male Student Athlete of the Year. It is the first such honor for any student athlete at San Diego Miramar College.
During his sophomore season, Seits led the Jets to the California Community College State Playoffs for the second consecutive year. The forward from Ramona High School averaged 17.8 points per game this past season, was named team Most Valuable Player and earned First Team All-PCAC honors.
As a freshman, Seits averaged 11 points per game and was an All-Pacific Coast Athletic Conference selection.
In March, Seits signed a letter of intent to continue his basketball career at nearby Division II Cal State San Marcos where he will pursue a bachelor's degree in business administration.  .
"Blake is a fabulous talent on the court, a great student and an even better young man," said Nick Gehler, athletic director and head basketball coach at San Diego Miramar College. "In his two years with us, he will have not only have won a team MVP award and made back to back playoff appearances, but he will have completed 77 units with a 3.99 GPA and he is on track to earn an associates degree in Business Administration.  All this while working 20 hours a week an In-N-Out. He has really left a positive impression on our program."
As a result of his Male Student of the Year honors, Seits is automatically nominated for the California Community College Male Scholar Athlete of the Year which will be presented in the fall.