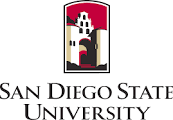 San Diego Miramar College has seen a dramatic rise over the last two years in the number of students successfully securing admission into San Diego State University via transfer. Data provided by the San Diego Community College District shows that the College witnessed a 45% increase in the number of applicants accepted for admission from Fall 2017 over Fall 2019. As a result, the number of students intending to enroll also grew by 57%.
In Fall 2019, Miramar College had 787 students apply for admission to San Diego State University up 39% from Fall of 2017. Of those 787 applicants, 403 were accepted and 340 intended to enroll.
The 787 applicants in Fall 2019 is up from 566 in Fall 2017.
In Fall 2017, just 277 Miramar College students were admitted via transfer to San Diego State University. Two years later, that number has grown to 403, an increase of 45%.
"The College has made it a priority to raise its transfer rates to San Diego State University," said Dr. Patricia Hsieh, president of San Diego Miramar College. "With the relatively new Associate Degree for Transfer degree providing a more efficient pathway, transfer priority consideration for San Diego Community College District established, a dedicated Transfer Center, and a focused marketing strategy, the College has seen great results for its efforts."