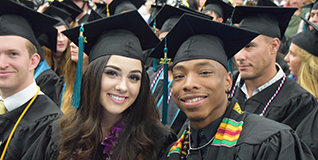 For the second consecutive year, Miramar College will graduate its largest class ever. As a matter of fact, Miramar College will improve on its degree completion numbers by 18% over last academic year. Miramar College will confer 1,261 associate degrees during its 2019 Commencement ceremony to be held on Friday, May 17 inside Hourglass Fieldhouse. The ceremony will begin at 1pm and conclude by 3pm.
A long term strategic goal of San Diego Miramar College is to improve degree completion, and for the second time in the history of the College more than 1,000 associate degrees will be conferred. A total of 1,261 associate degrees have been earned during the 2017-18 academic year. The increase of 193 degrees over last academic year. Last year, the College conferred 1,068 associate degrees.  
Of the 1,261 associate degrees to be conferred, 601, or 47% will be Associate Degrees for Transfer (ADT), thus demonstrating that the College will have prepared at least 601 students for transfer to a 4-year university. The number of ADT's conferred is 164 more than last year, a rise of 38%.                        
In addition, 649 Certificates of Achievement will be awarded. That number represents an increase of 35% over last year and is the highest total of certificates awarded by a SDCCD college this academic year.
Relative to its size and resource allocation, Miramar College will see 1,588 individual students earn awards. Miramar College further illustrated its service to its surrounding community by proudly announcing that 141 Filipino students and 394 Latinx students will be among the 1,588 students graduating this May. Miramar College enrolls the most Filipino students of any college in the San Diego Community College District.    
"I am beyond thrilled to report these numbers for the second straight year," said Dr. Patricia Hsieh, president of San Diego Miramar College. "Focusing on student success is the College's top priority. Not only does the College's enrollment continue to grow, but the total number of degrees and certificates conferred are also up significantly for a fifth straight year and that continues to prove the College's commitment to serving those who wish to achieve their educational goals. This is a testament to the hard work and dedication of faculty, staff and students at Miramar College."
With our continued academic success and enrollment growth, we anticipate a larger than normal gathering at commencement. As a result, we are making an effort to address issues with overcrowding at the ceremony. As such, the College is undertaking two new strategies. The first is to live-streaming the event on the web so that family and friends can watch the ceremony from wherever they are. This should be a great benefit for students who have military family who are deployed, family who are overseas/out of state, or family members who simply cannot make it to campus on the day of the event. In relation to the live-stream, we will also be providing an alternate viewing location on campus on the day of Commencement so that family members can watch the ceremony in a more relaxed atmosphere. One can view the live-streaming on campus in L-105 of the LLRC Building. Doors will open to L-105 at noon on May 17.
As a second strategy, we are suggesting that students invite up to five guests to attend the ceremony in the Fieldhouse. While we realize that not all students will stay within the recommended five invitees, however, we are hoping these two strategies will help to ensure a comfortable seating environment. 
A link to the Commencement Ceremony stream can be found here: http://www.sdmiramar.edu/commencement-live   
Check-In for Student Participants: Students participating in the Ceremony need to check-in promptly at 11:00 am in K1-107 (located by the information desk in the K1 Building). At this time the specific details about the logistics of the ceremony will be shared with the students participating. Cap and Gowns (Regalia): Caps and gowns are now available for purchase from the Bookstore. Bookstore hours are 9am–6:30pm Monday–Thursday, 9am–12:00pm on Friday, or call (858) 536-7866 or (619) 388-7866. Regalia may also be purchased online at the College Bookstore and graduate announcements at www.CBgrad.com.
Guest Information: Seating is available on a first-come, first-serve basis. If family members and friends choose to sit next to each other, they must arrive together. Guests will not be able to reserve seats. Please note that balloons will not be allowed in the Gymnasium. This is to facilitate viewing for all attendees. Doors to Hourglass Fieldhouse and L-105 (live streaming viewing area) will open at noon.
City Councilmember (District 6) Chris Cate will attend to present the College with a proclamation honoring its 50th anniversary.
Katie Mahmoodtorabi has been selected as the student commencement speaker. At 16, Mahmoodtorabi graduated from San Diego Virtual School. Two years later, she is graduating from Miramar College with an Associate Degree for Transfer in English Literature. The aspiring novelist is transferring to CAL for the Fall 2019 semester. Mahmoodtorabi is a first generation college student.