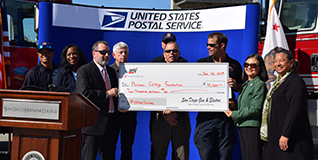 The San Diego Miramar College Foundation received a $10,000.00 grant from SDG&E to support the College's Fire Technology program.
On Jan. 25, 2019, during the United States Post Office First Responders Forever Stamp unveiling, San Diego Gas & Electric made the $10,000 check presentation.
"The College plans to use this donation to upgrade our locker room facility for our firefighting candidates," said Darren Hall, director of the Miramar College Fire Technology Program. "SDG&E does a terrific job assisting our college in being the region's workforce development leader. Just last year they donated six top of the line drones to our aviation program and this year they are supporting future first responders who will serve the San Diego community for years to come."
Miramar College has provided "Best in Class" first responder training, which includes fire, EMT and law enforcement training, since its inception in 1969. The College is home to the Regional Public Safety Training Institute which serves San Diego Fire, and several other local agencies, for academy and POST training.