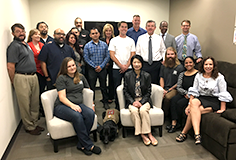 The Larry Himmel Neighborhood Foundation along with Jerome's Furniture refurbished the Veterans Lounge at San Diego Miramar College in honor of Veterans Day. Melinda Lee, a recent Miramar College graduate and Army veteran, reached out to the Himmel Foundation asking for help to upgrade the lounge. "I came in here and sat on the couch one day in October and I noticed that our furniture was starting to go, so I contacted the Larry Himmel Foundation and ten minutes later I received an email back asking for my wish list," said Lee, who spent 8 years active duty in the Army. "I can't say enough good about what the Foundation is doing to keep Larry's memory alive. That's what we do as Veterans, we keep the memory of our fallen comrades alive and that's what they are doing, so this is a perfect fit, and I think that is so beautiful."   
Help arrived on Nov. 9 in the form of a brand new sofa, two accent chairs and a bookshelf. Lee hopes that the  bookshelf will one day be filled with textbooks to assist Veterans with their studies and lower their cost of attending college.
A brief ceremony was held in the lounge and attended by Miles Himmel, son of legendary KFMB-TV television personality Larry Himmel, Dave Sniff, president of the Larry Himmel Neighborhood Foundation, Elijah Hameline of Jerome's Furniture and Miramar College Vice President of Student Services Gerald Ramsey.