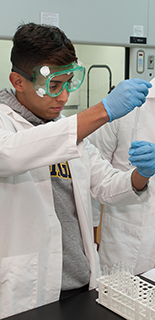 San Diego Miramar College understands how difficult it can be for freshmen, or any student, to secure the necessary classes they need. In anticipation of this need, the College has designed new Guided Pathways for both transfer students and Career Technical Education (CTE) students to attain 60 units in 2 years or less.
The Transfer and CTE Guided Pathways were designed by instructional and student services divisions to provide transfer oriented and CTE focused students to attain 60 units for transfer or an associate's degree. With these new guided pathways, students can accelerate their paths to completion of 60 units by taking online, day and evening classes on campus, and by enrolling in Intersession and summer school courses.
The Transfer Guided Pathway has STEM and non-STEM tracks for students to choose from. The CTE Guided Pathway allows students to receive an associate's degree by following clearly outlined course sequences.
In order to participate in the Transfer Guided Pathway, students must be eligible to enroll in English 101 or higher and Math 104 or higher.
Students who are interested in either Transfer Guided Pathway or CTE Transfer Pathway must take a college assessment exam offered Monday through Thursday from 8:00am-7:00pm and from 8:00am-3:00pm on Friday's in the Welcome Center. 
For those interested in a Guided Pathway, please see a counselor today or call the Counseling Office at 619-388-7840 for more information. You can also reach Professor Martin Moss, counseling department chair, at mmoss@sdccd.edu.