Job/Career Services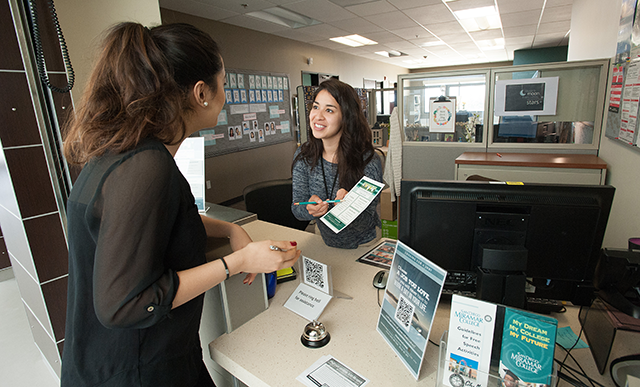 Mission Statement
Our mission is to assist students in developing career goals by exploring their values, skills, personality traits and interests in an inclusive and supportive environment. We prepare students to make informed decisions about their futures by providing career-related counseling, comprehensive resources and specialized programs. The Career Center is dedicated to serve diverse populations by offering an array of career-development activities that inspire and support each student's lifelong career journey.
Students, Alumni, and Employers: Access Miramar Job Network!
San Diego Miramar College uses College Central Network as its official job resource and resume system. The site is available 24/7 to students, alumni, and employers.
https://www.collegecentral.com/sdmiramar/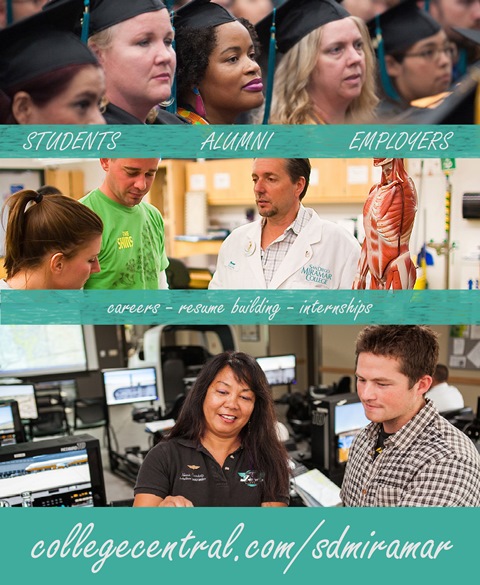 Students and Alumni, quickly apply to jobs and Internship/Co-op opportunities posted exclusively for you, and search other opportunities via Jobs Central® and Intern Central®, national job boards.
Create and upload your resume and career portfolio to make available to employers.
Access our events calendar, and career/job search advice documents, podcasts, videos and more.
Review Career Fair information and company recruitment visits.
Employers search for talented students and alumni, and post unlimited jobs for free.
Career Center Services
We Offer You:
Career & Industry Exploration
Major Exploration
Job & Internship Listings
Volunteer Opportunities
Resume & Cover Letter Assistance
Networking tools
Interview Preparation
Career Assessment(s)
Services by Appointment
Career Assessment Interpretation
Review & Critique of Resume(s) & Cover Letter(s)
Career Counseling
Mock Interview(s)
Career Center Events:
Job Fairs
Career Related Workshops
On-campus Employer Recruiting
Major & Industry Information Sessions
Classroom Presentations
Choose a job target (also called a "job objective")
Find out what skills, knowledge and experience are needed to do that target job.
Make a list of your 3 or 4 strongest skills, abilities or knowledge that make you a good candidate for the target job.
For each key skill, think of several accomplishments from your past work history that illustrate each skill.
Describe each accomplishment in a simple, powerful, action statement.
List the primary jobs you've held, in chronological order.
Job/Career Services